Stylish and trendy – outdoor cooking
Not least because of the rising temperatures, outdoor kitchens are currently experiencing a real boom. We checked in with Florian Hauff, Kitchen Designer & Store Manager at Italian luxury kitchen manufacturer Modulnova, to find out what the trend is all about and what to consider.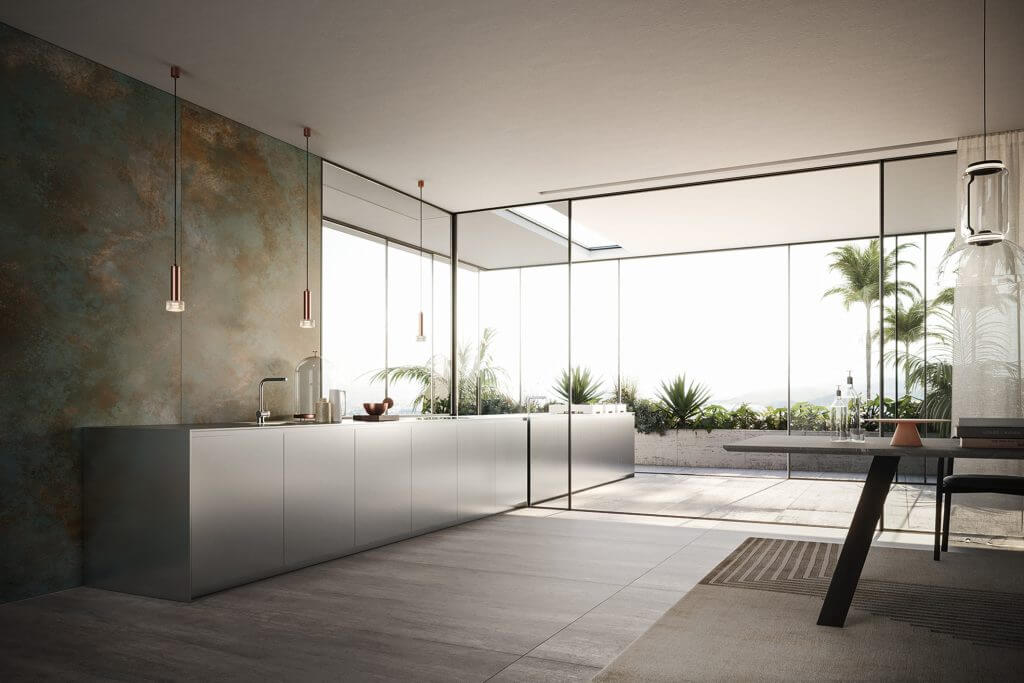 Mr. Hauff, when did outdoor kitchens really come into fashion?
Florian Hauff: The archetype of outdoor cooking was probably archaic cooking over an open fire. This has actually never been lost, but still has its charm. The further development is then the classic grill and now the outdoor kitchen. This, in turn, is a consequence of the general conditions of the last few years, keyword pandemic: During this time, the garden, the terrace – actually the home – has gained a new meaning and thus also new functions. Life is shifting more and more outside, which is also due to the new climatic conditions. The consequence of all this and the factor that vacations are also made at home, gives the trend of outdoor kitchens. Whereby these are nowadays better and better equipped – a kettle grill alone does not do it anymore.
What to consider for outdoor kitchens? Can you also use the same materials here as indoors?
For the most part, outdoor kitchens use different materials than indoor kitchens. The corps are made primarily of stainless steel, while in the. Interior can be used chipboard or solid wood. Quite importantly, the materials must be resistant to water and frost. Outdoor kitchens can be covered or not – the important thing is that they are placed so that rainwater puddles do not form. Outdoor kitchens change due to the weather, they acquire a certain patina.
Wood is therefore dispensed with, which is obvious. But what are the trend materials for outdoor kitchens?
The materials do not necessarily follow a trend, but are also quite fixed due to the weather: natural stone, ceramic, metal or stainless steel.
The optimal outdoor kitchen deluxe: What must it be able to do?
There we are again with the archaic functions – these must be fulfilled first, that is, fire and water are essential. The further development of fire in the outdoor kitchen are cooking sites, which can be electric or gas, and some are coal or wood. Then it needs water and, of course, enough work surface. An outdoor refrigerator for drinks is ideal, as well as seating or a bar so that everyone is close and – like a campfire – can sit, stand, help out all around. The evening can then be spent around an open fireplace. And get warm.
Which connections do I need?
Connections depend on the equipment that is part of the outdoor kitchen. Most often, electricity and gas – even from the gas bottle – are necessary.
Last and important question: how are outdoor kitchens priced?
The cost is calculated very individually – according to the equipment, size, equipment, materials. However, due to the use of stainless steel for the corps, outdoor kitchens are expected to be priced higher than indoor kitchens.
---
Landlust: Luxury real estate in the countryside
Urban: Luxury properties Vienna Urban
Villa location: Luxury properties Villa location
For ski fans: Luxurious living for ski fans
On the waterfront: luxurious living on the waterfront
Hotel service: Luxurious living with hotel service
Exquisite view: Luxurious living with an exquisite view
For golf fans: Luxurious living for golf fans
Classic elegance: Luxurious living in classic elegance