Recycling Deluxe: old becomes new
When designing and furnishing their own four walls, more and more people are attaching importance to sustainability. And gradually open the door to the circular economy.
Old wooden beams, bricks, tiles, doors, stone or wooden floors had their supporters in the past. While some want to stand out from industrial mass-produced goods with handmade unique pieces, others appreciate history. Sustainability is now increasingly being used as an additional argument. By reusing or recycling them, valuable resources are not only preserved but also conserved.
For this reason, Weitzer Parkett, for example, launched the "Re-Parkett" product in cooperation with the material nomads in the middle of last year. "Old parquet flooring is so valuable that it is worth saving it from disposal and – reprocessed – returning it to the value cycle," says Weitzer Parkett.
In addition, 70 square meters of parquet bind a ton of Co2. Specifically, the material nomads dismantle old hardwood floors that are at risk of disposal and deliver them to Weitzer Parkett. There, the massive parquet boards, which are up to 200 years old, are prepared by hand. That is, they are sanded a little, and the edges are also sharpened.
In addition, the boards, mostly oak, receive a new profile on the sides and a new tongue and groove joint. After that, they are sold to lovers of building materials with history.
Second life
Strasser Steine, Upper Austria-based specialist for kitchen countertops made of natural stone, also gives them a second life. With "Re-Stoning", the company has developed the world's first circulation system for kitchen countertops made of natural stone for this purpose.
End customers can thus return their old natural stone countertops via the dealer when they purchase a new Strasser Steine countertop, but for the time being only in Austria and Germany, and feed them into a recycling process. In addition, sections from production are recycled. The materials will be sorted by color, crushed and used in combination with recycled materials for the production of new kitchen countertops launched in the summer of 2022 under the name "Alpinova".
Kitchen fronts have also recently entered the market. Around 2,000 of these recycled countertops, which consist of 40 percent crushed natural stone, 50 percent recycled material and 10 percent high-quality binder, have since been ordered. "This alone meant that around 180 cubic meters less stone had to be quarried and transported than would have been the case with classic natural stone countertops," says Managing Director Johannes Artmayr, who points out that the countertops would meet all requirements: They are easy to clean as well as hygienic, largely scratch- and cut-resistant, and heat-resistant, he says.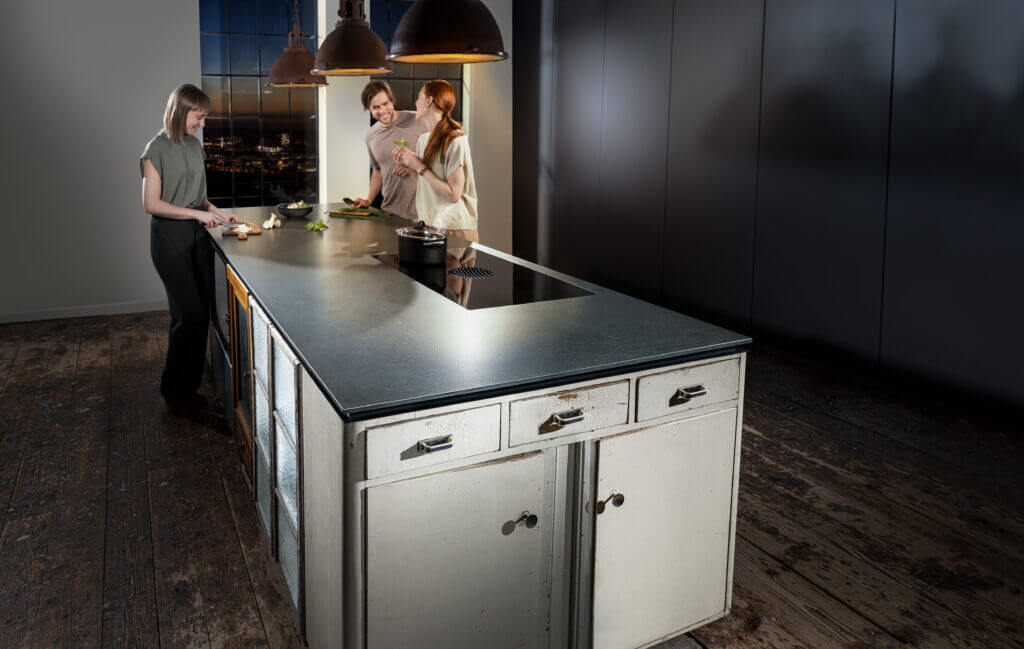 Designer up and recycle
Designers have already jumped on the bandwagon and are re- or upcycling furniture and other furnishings. For example, old doors become tabletops or a bathtub becomes a cabinet or a shelf.
For example, the Hamburg-based product design label Lockengelötelt transforms old oil drums into home bars, coffee tables or cabinets. Dutch designer Piet Hein EEK, on the other hand, uses for them, among other things, discarded window frames. Thus, one thing is becoming more and more obvious: recycling in the field of furnishing is increasingly turning from a niche product into an interesting market.
Photos: Strasser stones or curly soldered
---
Landlust: Luxury real estate in the countryside
Urban: Luxury properties Vienna Urban
Villa location: Luxury properties Villa location
For ski fans: Luxurious living for ski fans
On the waterfront: luxurious living on the waterfront
Hotel service: Luxurious living with hotel service
Exquisite view: Luxurious living with an exquisite view
For golf fans: Luxurious living for golf fans
Classic elegance: Luxurious living in classic elegance