The most expensive suite in the world
What do Rihanna and Bill Gates have in common – besides their enormous fortunes? They have both stayed in the most expensive suite in the world!
The Royal Penthouse Suite at the President Wilson Hotel in Geneva not only offers a host of luxurious benefits, it also impresses in terms of privacy and security. However, for a very proud price…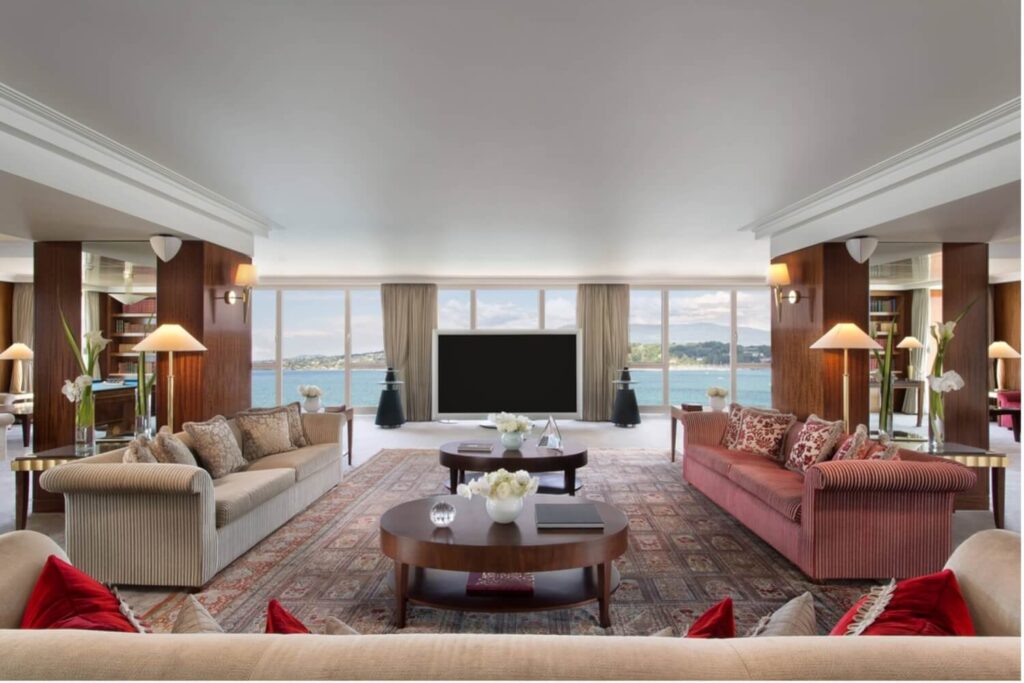 The royal equipment
The Royal Penthouse Suite is not only one of the most expensive in the world, but also the largest and most luxurious in all of Europe. You enter the 1,800m2 suite, which spans the entire eighth floor, via a private elevator that takes you to the 8th floor. Behind the elevator door, more than 25 rooms await you: a 240m2 living room, twelve luxurious marble bathrooms with steam bath and Jacuzzi, as well as a library, a cocktail lounge and a private fitness room. The luxury doesn't stop there, however, as the suite includes a salon with an impressive Steinway grand piano and a billiard table. A chef and a personal butler are also available at any time of the day to read your every wish. It is also one of only three hotels in the world with a 103-inch Bang & Olufsen TV that costs over 120,000 euros.
If you take a step outside, onto the 1,700m2 roof terrace, then you can enjoy the absolute highlight of the suite: a fantastic panoramic view of Lake Geneva as well as Mont Blanc. Here you can enjoy a breakfast with a view. More luxury really does not go!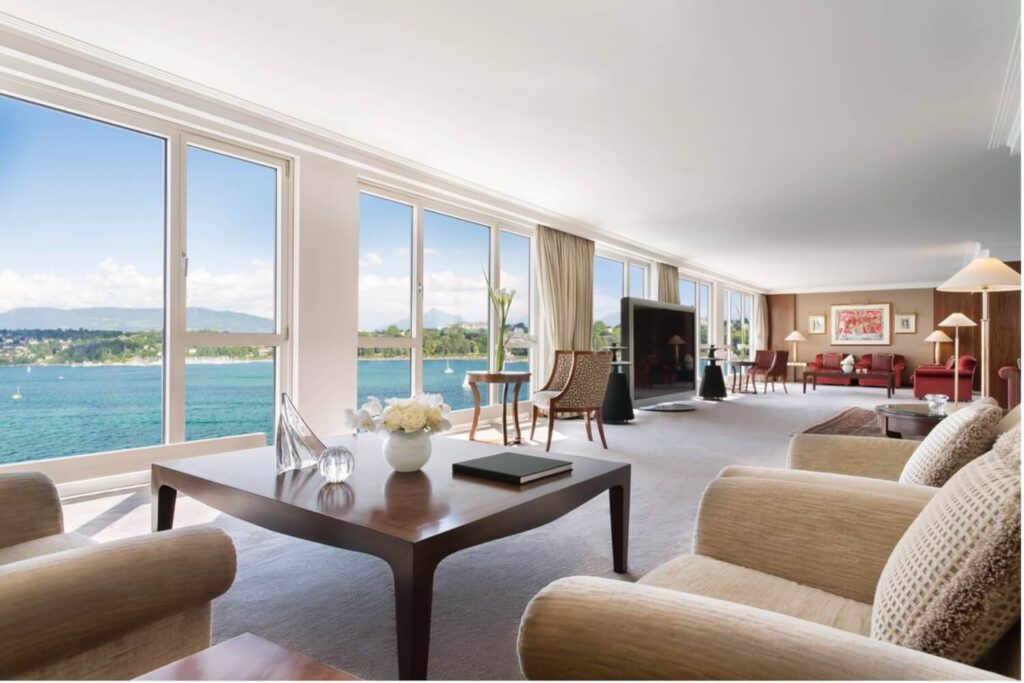 A safety concept in a class of its own
No other safety concept steals the show from the luxury suite. Bulletproof bulletproof glass windows, armored doors, a secured safe and dedicated security personnel. On top of that, there is a helipad for emergency evacuation. No wonder that state guests like Bill Clinton and Tony Blair and celebrities like Michael Jackson and Michael Douglas choose this penthouse suite as their accommodation – there is hardly more security and privacy!
Luxury has its price
If you want to spend your stay in pure luxury and complete safety, you will probably have to look a little deeper into your wallet. Although the actual price of the suite is not completely clear, it is said to be between a whopping 65,000-75,000€ per night. Luxury you have to afford first!
All the opulence of the hotel
The President Wilson Hotel is one of the most modern and exquisite addresses in the city of Geneva. Located in the heart of the city, it combines 180 rooms, 48 suites, a spa, a hair salon and a Michelin-starred restaurant. The luxury hotel bristles not only with luxury, comfort and cutting-edge technology, but also with its unbeatable views of Lake Geneva, the hotel pool and the Swiss city.
In 2000, it also became part of Starwood Hotels and Resorts and a member of the Luxury Collection. In 2007 it was renovated at a cost of 26 million euros and the premises were dressed in elegant, luxurious design – simply irresistible!
---
Landlust: Luxury real estate in the countryside
Urban: Luxury properties Vienna Urban
Villa location: Luxury properties Villa location
For ski fans: Luxurious living for ski fans
On the waterfront: luxurious living on the waterfront
Hotel service: Luxurious living with hotel service
Exquisite view: Luxurious living with an exquisite view
For golf fans: Luxurious living for golf fans
Classic elegance: Luxurious living in classic elegance