Living trends 2023: What is permitted is what pleases
"My home is my castle" – since the outbreak of the pandemic, this motto has gained a lot of importance. The four walls of one's own home have thus become even more of a place of retreat, a safe haven in which one thing above all is important: feeling good. "But that also includes finding yourself in the furnishings," says interior designer Elke Altenberger. There is a wide range of styles on offer, from the 1950s, 1960s and 1970s to Art Deco, Bauhaus and country house styles. Not least because, according to Altenberger, even in the face of globalization, the supply of furniture, fabrics and accessories is enormous. These have been adapted to the spirit of the times and supplemented with something new. "You can therefore say: what is permitted is what pleases," says Altenberger.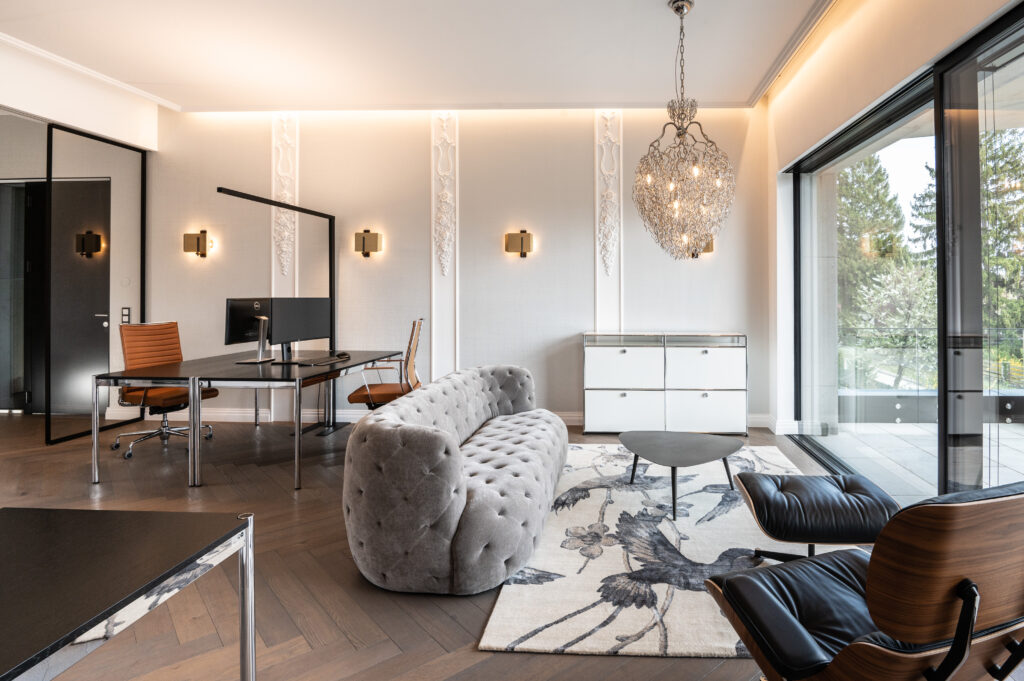 Trend 1: Individuality
According to Altenberger, living spaces in the coming year should be less reminiscent of showrooms and more reflective of the personality and history of the occupants. Favorite pieces from different stages of life are cleverly combined with new acquisitions. For Altenberger, this also represents the new quality of living: "Quality is to break away from the mainstream."
Trend 2: Organic shapes
Rounded edges and curved shapes on sofas, armchairs, chests of drawers or lamps are a must in the coming year. They are perceived as comfortable, cozy and inviting. In addition, they also find their way back into the house and apartment as arches: whether in the form of door openings, wallpaper or paint effects, for example.
Trend 3: Groove structures
Smooth surfaces are out, grooves are in demand instead. They can be found on walls, as well as on partitions and furniture.
Trend 4: The wall as a total work of art
The white wall must abdicate. "The wall becomes a holistic art," describes the interior designer. This is ensured either bright colors, paneling or wallpaper, which also offer a huge variety of patterns. Very topical are wallpapers reminiscent of trompe l'oeil painting and create mock architecture or offer views of (fantasy) landscapes or animals. By the way, more and more often in the designs are included ceiling, actually the fifth wall in the room.
Trend 5: Digital Lavender
The trend color of 2023 is called "Digital Lavender". This light shade of purple is meant to express two emotions in particular: Serenity and calmness. Also "in" are natural tones, but sometimes mixed with stronger colors, as well as green tones.
Trend 6: Opulence
Although minimalism still has its supporters, in the coming year it may again be opulent. Be it that different styles are skillfully mixed with each other, be it that warm fabrics and colors as well as matching accessories, for example made of metal, create a lush impression.
Trend 7: Material mix
In 2023, there is no way around the combination of different materials in furniture. Thus, sofas are popular with wooden frames and bases or metal feet. The play of materials is also in demand for tables: for example, slabs of stone rest on metal table legs.
Trend 8: Residential offices
The home office has come to stay. But in 2023, this no longer has much to do with a workspace – at least visually. "Offices become homelike; you want to feel comfortable when you're working," Altenberger says.
Photo article lead: :©Arte, arte-international.com
Landlust: Luxury real estate in the countryside
Urban: Luxury properties Vienna Urban
Villa location: Luxury properties Villa location
For ski fans: Luxurious living for ski fans
On the waterfront: luxurious living on the waterfront
Hotel service: Luxurious living with hotel service
Exquisite view: Luxurious living with an exquisite view
For golf fans: Luxurious living for golf fans
Classic elegance: Luxurious living in classic elegance