Mallorca is, if you will, the model student among the Spanish islands: stably popular for 20 years, always in top shape, but quite adaptable. In short – here every vacationer will find his happiness. Whether he just wants to relax, engage in sports or indulge in culinary delights. Each coastal region has its own charm, in the interior of the island ancient monasteries, dreamy villages and historic wineries invite you to visit.
Roughly, the Balearic Island can be divided into five different regions. There is the mountainous north with its fantastic hiking trails, the lively west with the capital Palma, the quieter south with wonderful bays, the diverse east, which offers something of everything, and of course the center of the island, where you can immerse yourself in the real Mallorcan life.
It's no wonder that Mallorca is also at the top of the list for those looking for a summer second home – and consistently so. We asked Peter Marschall (GF Marschall Immobilien) and Massimo Saccomanno (Senior Consultant OTTO Immobilien), two proven Mallorca experts, how the real estate situation on the island is currently, where the hotspots are and what is most sought after.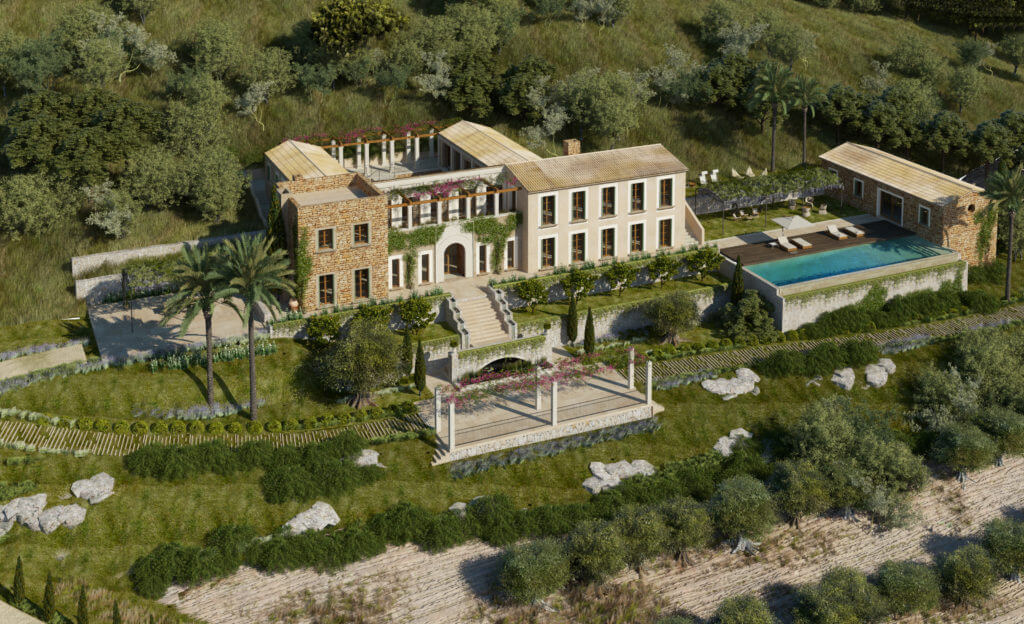 For over 20 years, Mallorca has been among the top 3 most popular destinations for second seats in the premium and high-class segment. What are the reasons for this stability and continuous value growth?
Peter Marschall: It starts with a varied, beautiful landscape, continues with a first-class infrastructure, highly developed gastronomy, a very well-developed road network, very good health care, and ends with a pleasant Mediterranean climate. In addition, there are no language barriers, an attractive range of real estate with stable values and high quality standards, best year-round accessibility from all over Europe (e.g. several flights daily from Vienna). In addition, the island offers something for everyone – from nature lovers to party animals.
Massimo Saccomanno: Mallorca promises, on the one hand, southern European charm and lifestyle with all its amenities, on the other hand, the island meets the ideas and demands of Central European, maximum quality and living standards. Mallorca is a cosmopolitan as well as in its basic characteristics diverse destination, which is not to be found so complex in Europe a second time. High security and service level, international schools and clinics, fast and year-round accessibility above all also the impressive nature of a high sea island and the Mediterranean climate are often cited, but are only a few highlights of the unique Balearic island.
In our perception, Mallorca has experienced another strong boost in demand and price development in the last two years – why?
PM: At the time of the Corona pandemic, when travel became possible again, the desire of many Northern Europeans for a second home as well as an interesting investment increased. The home office trend has also played a role here and many people have discovered that they can also pursue their professional activities from their second home in a pleasant atmosphere.
MS: Because even during the pandemic the island proved to be a safe and pleasant place to live, far away from the social as well as political crises of Central and Eastern Europe. Mallorca has also proven to be a safe investment market, as evidenced by the consistently positive price trends over the past 20 years.
What has changed in the market over the last ten years?
PM: There is a tendency for the quality of real estate to increase, and demand has grown. Along with this, prices have risen significantly and "life in the countryside", away from the beaches, has become more attractive.
MS: Visitors and property buyers are clearly more international. Mallorca is now also perceived outside Europe, very appreciated and in demand. International high class personalities visit and influence the market and the island.
Which are currently the most sought-after areas?
PM: The southwest of Mallorca with good accessibility to Palma.
MS: Traditional is the southwest, always more up-and-coming neighborhoods of the capital as well. However, depending on your imagination, Mallorca has been in demand island-wide for years and has developed accordingly.
Are there areas that are only at the beginning of their real estate development?
PM: The island is already very developed and there are not very many opportunities for expansion due to restrictive building codes. As previously mentioned, inland locations are increasingly in demand and thus previously unknown villages are developing into interesting destinations for second homes.
MS: A few years ago it was possible to invest cheaply in first coastline properties and villas at the eastern end of the Bay of Palma. In the meantime, it is no longer just an insider tip.
Apartment or finca – which properties are currently most sought after?
PM: In the coastal regions it tends to be apartments, and inland it tends to be fincas.
MS: Villas with and without sea view, apartments, the classic finca, city palaces, that can't be generalized like that.
How do locals deal with foreign buyers? Are there fears of construction stoppages and further supply shortages?
PM: There are two currents here: Locals who do not live from tourism are not very happy with many of the developments of recent years. Before the pandemic, this even led to hostile actions in Mallorca. When in Corona times the vacation guests and second home owners stopped coming, most people suddenly realized that the island lives mainly from tourism. All locals who live from tourism in the narrower or broader sense tend to be vacationer-friendly. The current government is implementing many measures to promote quality tourism, protect nature and minimize further construction and hotel projects.
MS: Mallorca is an island, a shortage already exists due to natural conditions. The locals have lived in an international environment for decades and the younger generations have grown up that way. Insofar as it is respected that Mallorca is a Spanish island, has a local language and there is an indigenous population with its culture and traditions, Mallorca is a very hospitable place. Currently, however, there is also discussion about restricting purchases by foreign buyers – possibly rightly so, depending on one's point of view.
What do I need to consider if I want to buy a vacation property in Mallorca?
PM: The question of how often you will use the property should be asked. When choosing, you should take your time and look at several properties or destinations and compare them (infrastructure, accessibility, etc.). German is spoken everywhere in the coastal regions, but hardly at all in some villages in the center of the island. I recommend every buyer to involve professionals for legal and technical issues. Above all, you should carefully check whether a building permit and use permit is available and upright. There is a great density of reputable brokers in Mallorca that you should definitely trust.
MS: Absolutely, you should work with professionals.
Own use or subletting – what is the trend here?
PM: A combination of both. Very many buyers are looking for a property that they can use themselves, but also rent out. For some time now, renting has been allowed only with a permit to that effect.
MS: The high-end market should be understood as captive use. Meanwhile, the purpose of a combination of owner-occupation and short-term rental is also being worked on.
5 places you must have seen in Mallorca?
PM: Valldemossa, the old town of Palma with the famous cathedral, the natural beach of Es Trenc, the Tramuntana mountains with the village of Deia, a ride on the historic train to Soller and Port Soller.
MS: Five places are far from enough to discover Mallorca's diversity and beauty. In any case, you should not miss the lively island capital Palma, the Tramuntana mountains and its picturesque villages, the beaches in the south and northeast of the island, the luxury ports in the southwest and the vineyards and almond orchards in the interior of the island.
In Ibiza, the issue of sustainability and resource conservation with a focus on local building materials has played a major role in project development for many years. How does Mallorca compare on this important issue?
PM: The trend is going in the same direction for new hotel projects and new buildings. There are also many efforts to develop Mallorca in the direction of sustainability and resource conservation and renaturation. Individual traffic is largely banned from the city and town centers, beach restaurants (some of which were built illegally a long time ago) are closed and demolished. E-mobility is being strongly promoted. Some time ago, against great resistance, a tourism levy was introduced, which is mostly used for environmental investments, etc.
The current left-wing/green government is making a great deal of progress in this area, which in my view is very positive, but elections are coming up. If the conservatives get back into government, this could mean a turnaround.
MS: Sustainability and resource conservation is an international topic and is valued accordingly.
Are you interested in vacation properties abroad? In the next weeks we will present you more European hotspots like Portugal, Italy, Croatia & Co.