Cleaning silverware properly
How do I recognize real silver? Can it go in the dishwasher or how else do I get it clean and shiny? Asked by a professional.
It wasn't long ago that Jean-Paul Vaugoin received a very special customer request: Rick Owens, one of the most renowned contemporary fashion designers, had invited to an exclusive dinner in Paris as part of Paris Fashion Week. The who's who of the fashion and celebrity world had announced themselves, accordingly little attention was paid to the costs, the main thing was that it should be perfect. So Vaugoin was on hand, flew to Paris, set the table with the finest silverware that he had shipped to the Seine in his suitcase – and ended up being part of the illustrious evening himself.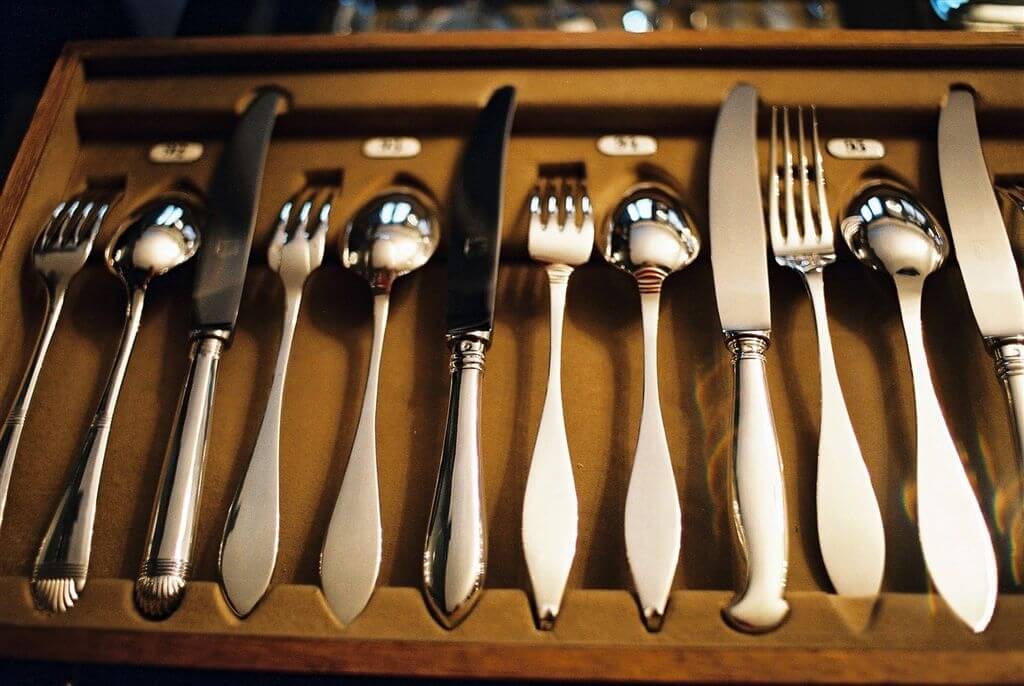 Stories like this happen to Jean-Paul Vaugoin, managing director of "Jarosinski & Vaugoin" not infrequently, after all, his silversmithy in Vienna is not only one of the last, but also one of the most renowned in Europe. Since 1847, silver has been refined and sold here in a wide variety of forms, from cutlery to jewelry and decorative items. The company has supplied royal houses (Jarosinslki & Vaugoin has been a supplier to the imperial and royal court since 1906), embassies and people for whom the comeback of table culture is associated with the finest silver cutlery. Both the British Crown Prince and Crown Princess William and Catherine, as well as a recently deceased billionaire widow, had Jarosinski & Vagoin produce, among other things, a small scoop made to measure, with which one could tip exactly three ice cubes into the drink. A conversation about history, the present, and the eternal question of how to properly clean silver.
Mr. Vaugoin, we are standing in front of a large, a very large display case, full of silverware. How many different cutlery sets do you offer?
We have a total of two hundred different patterns – and new ones are added every year.
When I go to a posh restaurant – is everything there really silver that glitters?
No, you won't find that anywhere in the world, because it would definitely be too expensive. Rather, restaurants and hotels use silver-plated goods.
And how can I, as a layman, tell the difference?
Genuine silver can be recognized by the hallmark, which you will find, so to speak, as a mark on each fork, knife. The lower the number, the lower the silver content. From a number of 800 you know that it is real silver – in the past almost everything was produced in 800.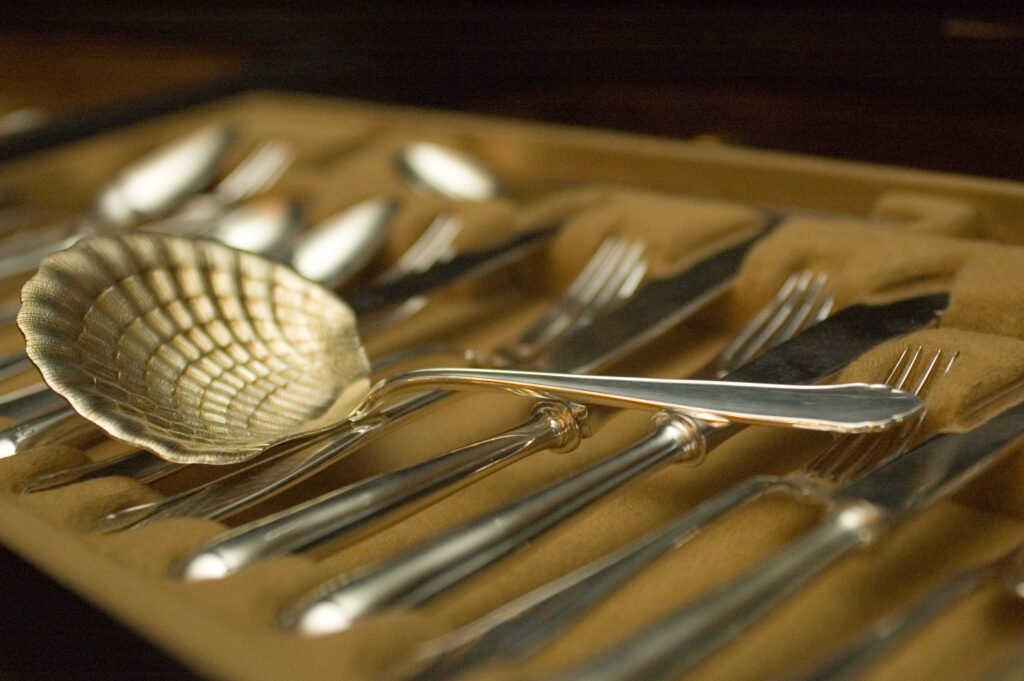 Does the weight also provide information?
No, you can't tell if the spoon is actually silver or not just by looking at the weight.
Often you can see pieces of cutlery, which are partly silver, but partly gold-plated. Why?
You see this a lot, especially with salad servers, because the vinegar is very aggressive and the silver would suffer.
A keyword and a question that you have certainly been asked many times: Is silver allowed in the dishwasher?
Yes, it absolutely may! What to pay attention to is how it is processed. Until thirty years ago, rosin similar to tree resin was still used as an adhesive, which has a melting point of 60 degrees and can thus dissolve in the dishwasher. However, we also offer to reinsert the various pieces of cutlery to eliminate this problem. Then you can safely wash silver in the dishwasher.
And in terms of cleaning: How often and what is your recommendation?
Of course, how often always depends on the quality of the water, three times a year would be my recommendation. Either have it professionally cleaned or try it yourself.
Which is?
In case of light discoloration a special silver cleaning cloth is sufficient, otherwise we recommend Hagerty silver cleaning agent or simple baths. You get more shine with a special Silver Foam. But in principle, nothing is forbidden.
Even home remedies do not?
No. A piece of aluminum foil in warm water, add salt or bicarbonate – this also works.
————————————————————————————————————
Landlust: Luxury real estate in the countryside
Urban: Luxury properties Vienna Urban
Villa location: Luxury properties Villa location
For ski fans: Luxurious living for ski fans
On the waterfront: luxurious living on the waterfront
Hotel service: Luxurious living with hotel service
Exquisite view: Luxurious living with an exquisite view
For golf fans: Luxurious living for golf fans
Classic elegance: Luxurious living in classic elegance