200 Years of Lobmeyr: Filigree Treasures. The Viennese glass and chandelier manufacturer J. & L. Lobmeyr, which celebrates its 200th anniversary in 2023, inspires traditionalists and trendsetters.
The Museum of Modern Art in New York collects them, Alain Ducasse serves them, the best designers create them and people all over the world appreciate them every day: glasses from the Viennese manufacturer J. & L. Lobmeyr, which has been dedicated to the fragile material since 1823, exert universal fascination.
Quality in the first place
The mastery of Lobmeyr glassblowers is evident in the production of gossamer muslin glass. With a thickness of less than one millimeter, it ensures incomparably fine contact between mouth, glass and beverage. "It is indeed different to drink from a fine glass," confirms Leonid Rath, who, together with his cousins Andreas and Johannes Rath, directs the fortunes of the Viennese glass and chandelier manufacturer J. & L. Lobmeyr. Quality is therefore written in capital letters: Each glass passes through at least 18 hands and several quality controls, the last of which is always performed by a family member.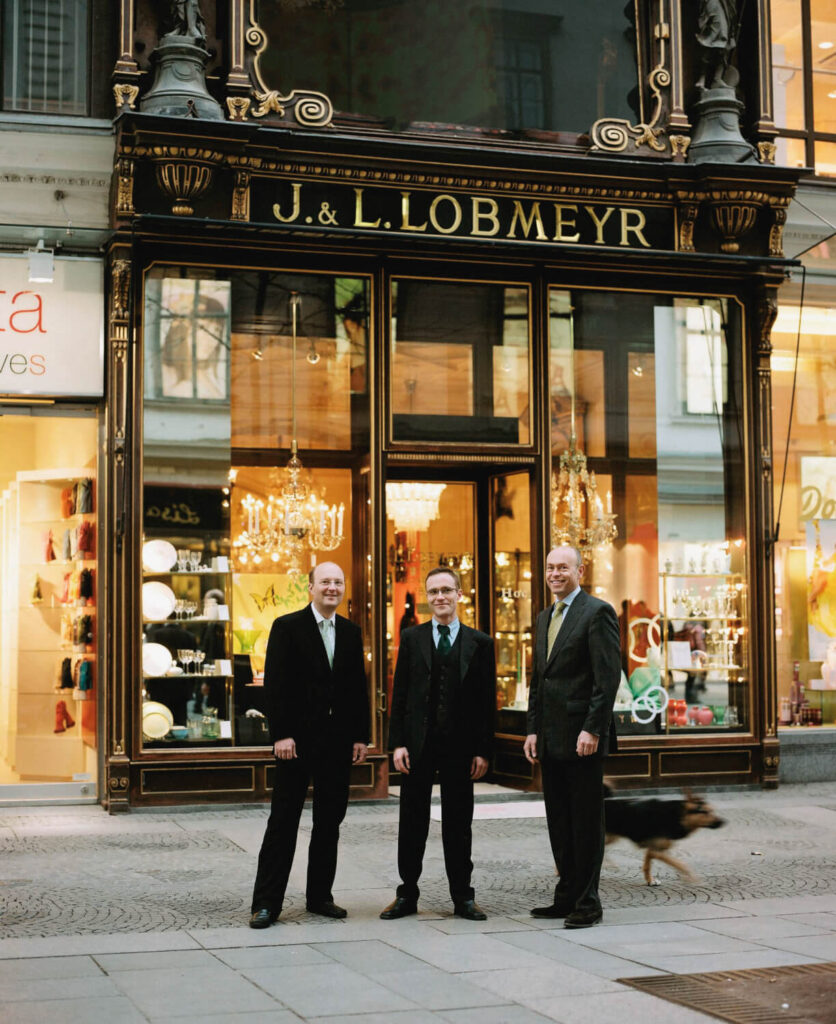 Because the glasses are hand-blown and hand-cut, engraved and polished, each one is a little different. Or, as Rath says, "Our glasses have personality." The drinking glasses are available from 40 euros, and demand has risen significantly, especially in times of the pandemic. And not just from private individuals; luxury labels are also hungry for quality, Rath says. For example, the Chanel showroom was equipped with Lobmeyr glasses.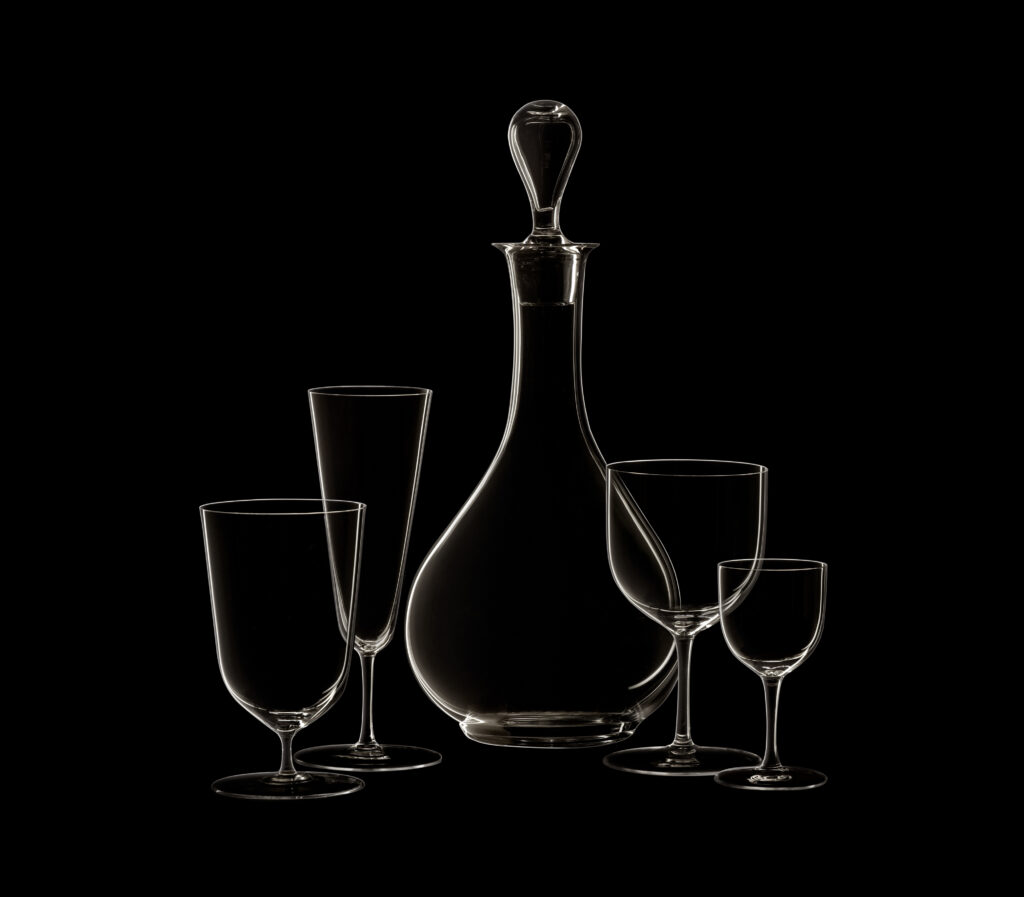 Chandelier with Thomas Edison
The family business, which has been working with the fragile material since 1823, has not only gained a worldwide reputation for processing it into drinking glasses. The same applies to chandeliers: In 1883, Lobmeyr developed the first electric crystal chandeliers for the Vienna Hofburg together with Thomas Edison, causing a sensation. In 1962, the "Starburst" chandelier for the Metropolitan Opera in New York was probably the most famous chandelier design of the 20th century.
But Lobmeyr chandeliers also set the mood in the great mosques in Mecca and Medina, as well as in hotels such as the Wolseley in London, the Grand Ferdinand or the Park Hyatt in Vienna. In private homes, these can also be found. "These are often custom designs that are tailored to the specific space," Rath tells us.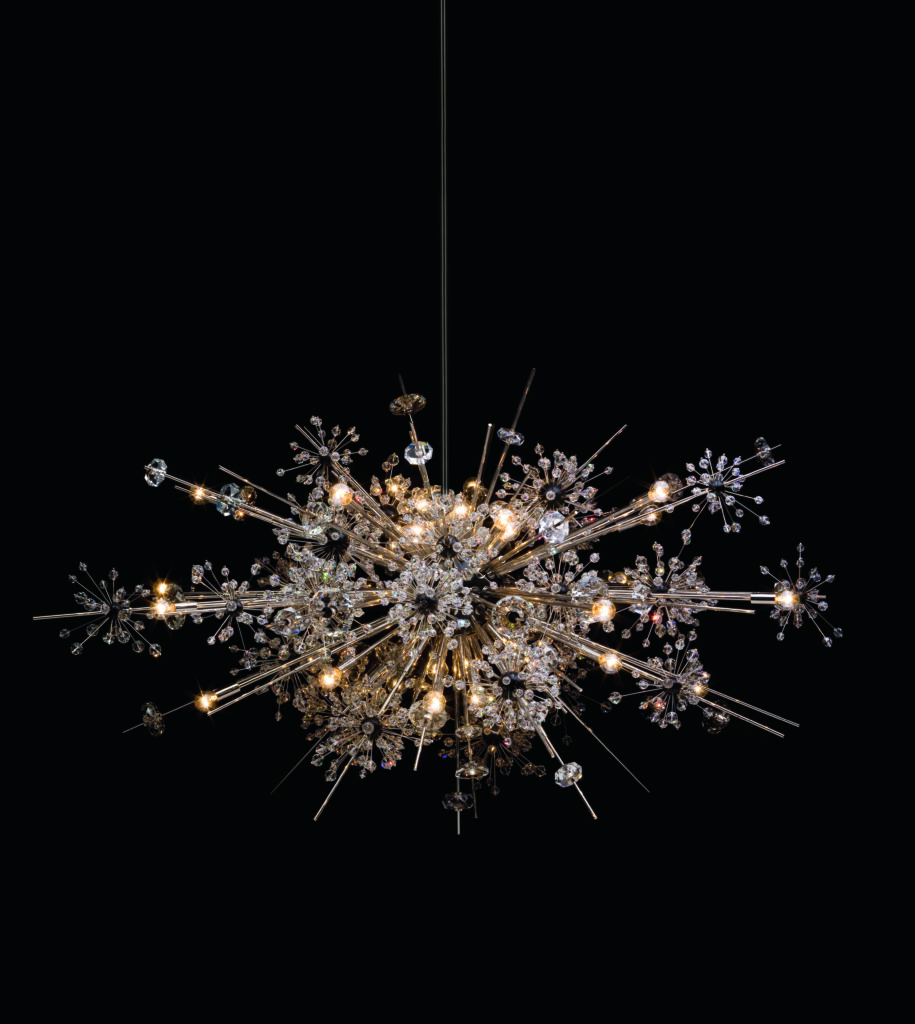 From Adolf Loos to Helmut Lang
Be it glasses, be it chandeliers – both inspire both traditionalists and trendsetters. Because the arc of designers responsible for the designs is broad: They include Adolf Loos and Josef Hoffmann as well as Stefan Sagmeister, Helmut Lang, Ted Muehling, Gregor Eichinger, Michael Anastassiades, Tomàs Alonso, Marco Dessí or Miki Martine. Whereby not every year a new collection comes on the market, but the decision to do so is well considered. "We don't want to part with the old, because we want our customers to be able to repurchase glass in the spirit of sustainability," says Rath, who calls glass a "fascinating, sophisticated material."
For this very reason, nicks on the edge of glasses are also ground out, if this is possible. But sustainability is also becoming more and more of an issue at Lustern – "we restore a lot of old chandeliers," Rath tells us.
Finery for the jubilee
In addition to day-to-day business, preparations for the anniversary year 2023 are currently in full swing. The store at Kärntner Strasse 26, for example, was spruced up for this purpose: "We uncovered the 19th-century floor and the portal was painted red," Rath describes. A collection of samples as well as various exhibitions will give an insight into the 200-year-old work of the glass manufactory. Under the title "200 Points of Lobmeyr", a printed poster with a map of Vienna and the world will bring the most important dealers, museums and customers before the curtain, and there will also be an online version of this. Also planned are new products and opportunities to visit the workshop in Salesianergasse. Asked about wishes for the anniversary, Rath says: "Ideally, our goal is to remain on the market for another 200 years."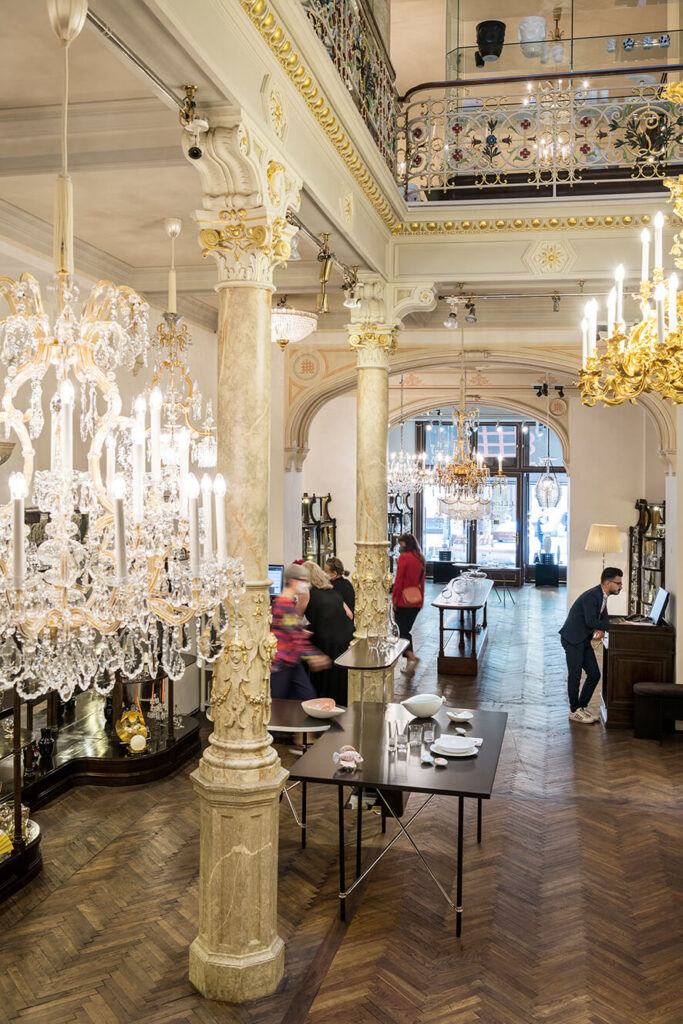 Landlust: Luxury real estate in the countryside
Urban: Luxury properties Vienna Urban
Villa location: Luxury properties Villa location
For ski fans: Luxurious living for ski fans
On the waterfront: luxurious living on the waterfront
Hotel service: Luxurious living with hotel service
Exquisite view: Luxurious living with an exquisite view
For golf fans: Luxurious living for golf fans
Classic elegance: Luxurious living in classic elegance