Sleep well series, part 6: The right bed
The proverb does not come by chance: How you make your bed, that's how you sleep. Even if the choice of the right mattress, upholstery, etc. is obviously a priority, you should still not rely only on the design when you set out to buy a bed. Ing. Christian Adam, Sales Director at "Wittmann Möbelwerkstätten", also sees a bed as a place of retreat where you should feel comfortable. We asked him for his tips when buying a bed.
Mr. Adam, what I need to consider when buying a bed? Are there any no go's on this point or is the issue purely an aesthetic one?
You have to look at this from different angles. First of all, the question arises: how do I use the bed? Only as a place to sleep or also to read or watch TV? In any case, in our experience, a bed is a "retreat" and is used not only for sleeping. In general, we observe a trend among our customers towards higher lying levels, but at the same time no one wants "an optical block" in the bedroom – in this respect a challenge to design and aesthetics – and that seems essential to me, especially in the sleeping area! Quite low "futon beds" today do not really exist in customer requests. Furthermore, other things play a role today: Should the bed also serve as a room divider, stand against the wall or free? With the Wittmann Beds collection, every customer has the option with different base frames, foot heights and designs and numerous different headboard designs and heights to configure his or her custom bed, tailor-made and adapted to individual needs. And also room situations.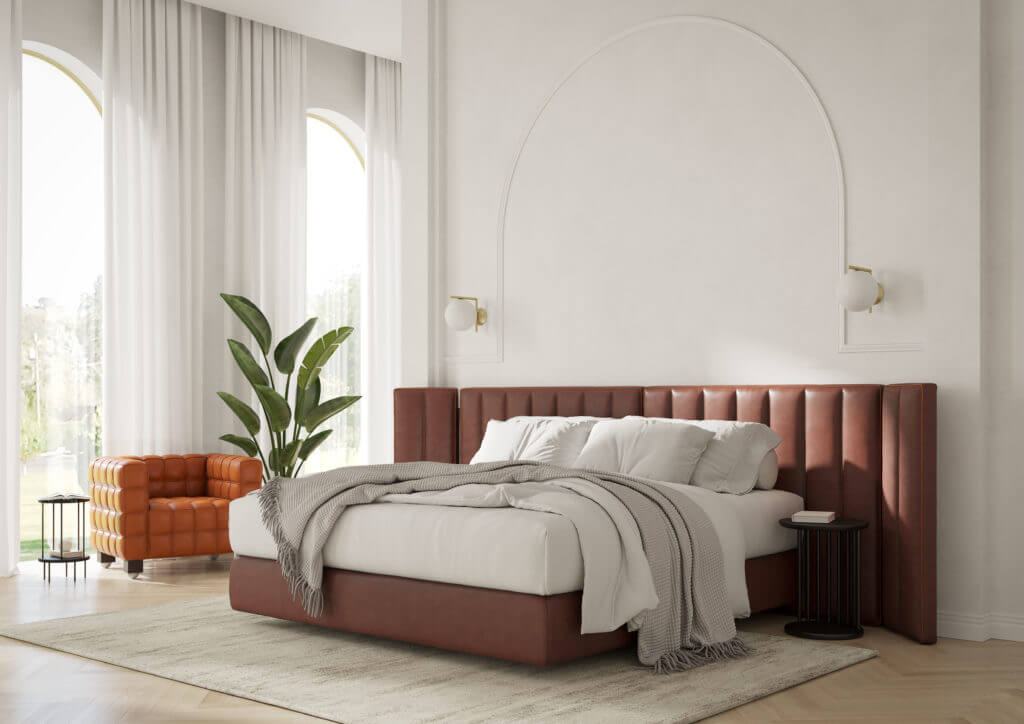 In principle, is any bed suitable for everyone?
The core task of the bed is and remains to sleep well in it. But that also includes the fact that I enjoy being there. That is, I must be able to "identify" with the type and style of the bed. Sleeping is – similar to comfortable sitting – a highly individual matter! Soft lying, firm lying, with or without head head, light or dark shades – for this, of course, there are "recommendations" but hardly a universally valid standard. That's why Wittmann offers a huge range of different cover options, our customers can choose from about 170 fabric qualities and 70 leather colors their desired cover – and if here really still no favorite is found, the customer can of course also "his" very personal fabric or leather (which has already been selected by his interior designer, for example) processed by us!
What materials would you recommend for the construct? Wood, metal?
A bed is probably also a "protective zone", in other words: security and safety are expected, so a stable construction must be ensured. Absolute no-go's are, for example, "wobbly" beds that also cause noise Under no circumstances should materials used give off unpleasant odors. At Wittmann Möbelwerkstätten, sensitive and responsible material selection and technically proven and optimal design naturally ensure that these basic needs are met. Direct skin contact should always be pleasant – therefore soft, warm, cuddly, natural materials are always better than hard edges and corners or cold-looking materials that can be uncomfortable or even hurtful when in direct contact with the skin. An upholstered bed base – typical of Wittmann – and an upholstered headboard (which I can also use as a backrest when sitting up in bed, for example) naturally meet this desire for comfort perfectly.
How much longer should a bed be than the person lying in it?
Here I am cautious about naming a "formula." But what we see: Even though statistically people are getting taller – the vast majority of our beds are still bought for a mattress length of 200cm. And this despite the fact that we offer a length of 210cm even without additional costs. So I think that here human needs are often also facing factual space sizes …
If a room is rather small, what would you recommend?
Of course, in this case, the bed should not look too bulky and dominant – ground clearance makes the bed base "look lighter". In terms of head head, I would tend to go for plain, lighter colors, possibly with a quilted cover. It makes the furniture look more "small" and not "as a block".
Which lying height is optimal?
As a rule, our customers order beds with a lying height between 55 and 65 cm.
What are the current trends in buying beds?
In addition to the classic, light natural tones, color is currently coming into play much more frequently – even multicolor. Individuality and design options are expected – as different as people are, so are ultimately their demands on such a sensitive area as their own sleeping place! And buyers today also ask themselves many questions when buying a bed: What materials were used, where, how and by whom was the bed made, etc.? These issues have become even more significant demanding consumers. At Wittmann, every bed is handmade exclusively upon receipt of the customer's order – given the countless variety of our variants, it would not be possible otherwise – no two beds are alike!
A few years ago, the box spring bed boomed – what makes it so special? Is it still so popular?
This term was – from our point of view – unfortunately used in an almost inflationary manner on the market. Boxspring is an optimally matched, point-elastic substructure as a lying surface for a mattress matched in this combination. In other words, the base and mattress must fit together! The base is then not a rigid plane, but can absorb the movements of the mattress and at the same time have a stabilizing and balancing effect – there are no "hardness bridges" and the user's body is supported in an optimal position during sleep. To provide this comfort, of course, requires expertise in the right type and processing of the springs. At Wittmann, for example, only so-called barrel pocket springs are used, each spring is separately wrapped with a linen ticking – these springs are characterized by excellent point elasticity. This means that each spring has "play" and acts as a single spring and not as a completely homogeneous mat. This can be seen, for example, in a double bed: if a user moves on one side, this movement is then not transmitted like a "wave" over the entire surface and affects the person next to the bed. The
From our point of view, the use of springs has a significant aspect: there is a high proportion of air inside the bed, and every time the springs are loaded, a pumping reaction occurs, so to speak. The bed breathes, thus provides air circulation – and can dry and equalize the completely naturally released moisture of the user again!
With the help of this detail, I would like to show that at Wittmann, with traditional craftsmanship and decades of experience in material properties, coupled with sophisticated and modern designs from our international designers, we are able to meet the high expectations and quality interests of our customers in the best possible way.
Precisely because of the increased demands of hotel guests, in recent years our beds are also regularly selected by architects and hotel operators for the realization of their exclusive projects.
Click here for an overview of the sleep-good special: https://myhome.at/category/schlaf-gut-special/
---
Landlust: Luxury real estate in the countryside
Urban: Luxury properties Vienna Urban
Villa location: Luxury properties Villa location
For ski fans: Luxurious living for ski fans
On the waterfront: luxurious living on the waterfront
Hotel service: Luxurious living with hotel service
Exquisite view: Luxurious living with an exquisite view
For golf fans: Luxurious living for golf fans
Classic elegance: Luxurious living in classic elegance