Sleep well series, part 3: How do I find the right mattress?
It is one of the most difficult decisions in the interior – choosing the right mattress. While dimensions and the sight alone are enough for pieces of furniture, when it comes to sleeping you should already deal extensively with the product and analyze your individual wishes and needs exactly. We have summarized everything on the subject for you and created a guide to help with the agony of choice.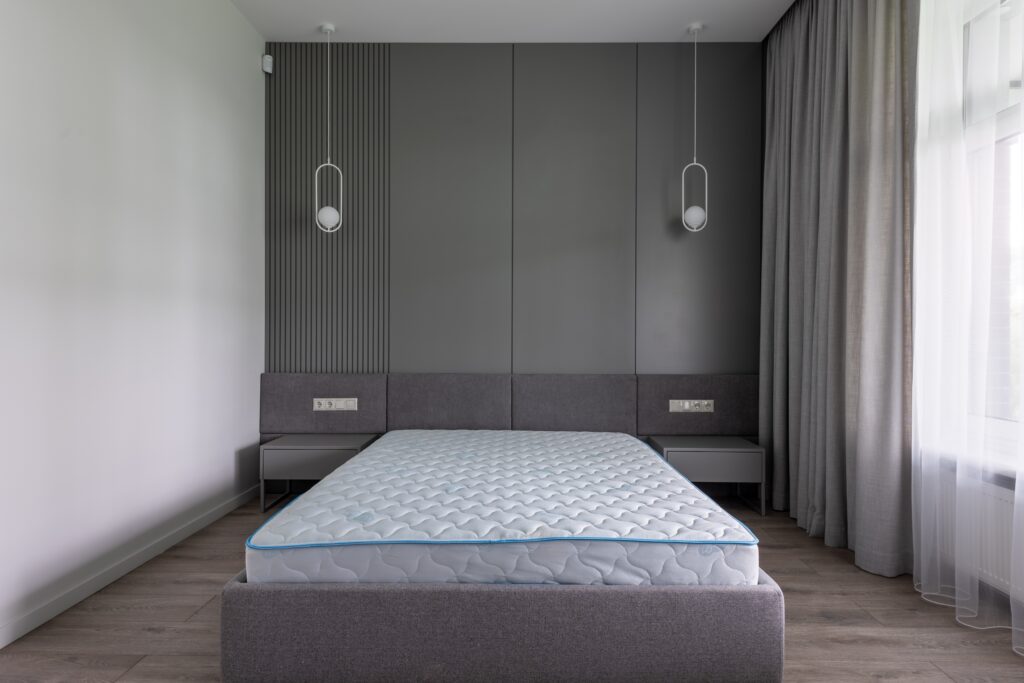 What are the mattresses?
The offer is large and continues to grow. In the composition of a mattress alone, there are many different variants – all with advantages and disadvantages.
– Cold foam mattresses: As the name suggests, they are made of foam, more precisely polyurethane, which is composed of polyols and isocyanates. Normally, such a mattress returns to its original shape. However, if you always sleep in the same position, so-called recumbency cavities will develop over time.
– Visco foam mattresses: This consists largely of thermoelastic foam. If you press your hand into the foam, an imprint remains for a few seconds. This is to guarantee adaptation to your own body shape – provided you always sleep in the same position.
– Pocket spring mattresses : Composed of springs sewn separately in cotton bags. This makes the mattress not as compact as others, but suitable for people who sweat a lot at night.
– Bonell innerspring mattresses : Unlike conventional innerspring mattresses, the springs for these mattresses are produced thermoelectrically. The springs are made of steel wire. However, due to the small number of spring coils, it is not particularly resistant to stress – more suitable for children's or guest rooms.
– Latex mattresses : Dimensionally stable and point elastic, but with a very high own weight, which makes regular turning difficult. Due to the compact material, air circulation is also only slightly possible.
– Polyether mattresses : Very low elasticity and limited breathability. Cavities form already after a few applications.
– Mattresses with mixed materials : Various manufacturers now work with a mixture of materials from spring mattresses or cold foam mattresses, in combination with a top layer of cold foam, gel or latex. Here you should inform yourself exactly, because: Latex mattress in combination with spring core usually provides a mostly comfortable lying feeling. Visco foam and cold foam mattresses in combination design are used more as a support.
What parameters should you pay attention to when buying?
– Height
– Weight : A new mattress should be well suited for your body weight and your body zones must be able to sink perfectly into the mattress. If the mattress is too soft, the degree of firmness must be increased. The following rule of thumb applies here: The heavier you are, the higher the degree of hardness.
– Physical stresses: The concept of the 7-zone mattress was created precisely for these needs. The alternation of harder and softer zones allows the relief of the body in the necessary places, eg back.
– User: Who is the mattress for? Do you sleep alone on the mattress or with your partner? Couples should use a mattress size of at least 160 × 200 cm to rest well while sleeping.
– Temperature and breathability : Latex and visco foam mattresses are suitable for people who freeze quickly, but not at all recommended for people who sweat a lot. Therefore, a mattress with an innerspring core (spring mattress) is particularly suitable for people who lose a lot of body fluid at night. People who prefer to sleep warmer, should resort to cold foam and visco mattresses. For those who prefer a cooler sleeping climate, latex, innerspring or pocket core mattresses are recommended.
– Allergies: One thing is clear: If you have a latex allergy, this mattress is out of the question for you. Similarly, for allergy sufferers who do not tolerate cold foam or innerspring mattresses. Here mattresses made of natural materials are recommended. If you are allergic to mites, make sure that the fabric cover of your new mattress can be easily removed and washed.
– Hardness grade : The degrees of hardness are usually indicated with values between H1(stands for soft, up to 60kg) and H6(rather harder mattresses, from 130kg). Meanwhile, there are also scales that stretch to H7 or even H10. The degree of hardness is based on the weight of people and gives an approximate guide for different weight classes: softer mattresses are thus suitable for slimmer people, harder ones for stronger body proportions. People with back problems should rather choose a harder mattress – and make sure that it maintains the degree of hardness.
These are the mistakes you should avoid when buying a mattress:
– Buying according to reviews or test winners: many seals can be purchased from mattress manufacturers and therefore do not really provide information about the quality. Rather, the following applies here: "Let him who commits himself forever (or at least for a long time) be tested (carefully).
– To focus not on the quality, but on the price: A mattress should last a few years. Buy a qualitative mattress with good materials and easily maintainable elements, buy a long-term sleep solution.
– Listening to friends: Your best friend raves about her new mattress? That is nice, but it helps you quite little. So: Buy what is good for you! Have you ever been to a hotel and been amazed by the mattress? Then either look directly or ask what mattress it was. Many manufacturers of hotel mattresses also sell to private individuals. The advantage: these mattresses are extremely durable and adaptable – after all, not every hotel guest is the same.
---
Previously published in this series:
premiumliving-blog.findmyhome.at/sleep-good-series-part-1-well-rested/
premiumliving-blog.findmyhome.at/sleep-good-series-part-2-tips-for-a-relaxing-sleep/
---
Landlust: Luxury real estate in the countryside
Urban: Luxury properties Vienna Urban
Villa location: Luxury properties Villa location
For ski fans: Luxurious living for ski fans
On the waterfront: luxurious living on the waterfront
Hotel service: Luxurious living with hotel service
Exquisite view: Luxurious living with an exquisite view
For golf fans: Luxurious living for golf fans
Classic elegance: Luxurious living in classic elegance