Where history meets modern design
Located on the Mönchsberg, in the middle of Salzburg's old town, the "Freyschlössl" is a true pearl waiting for its new owner: the unique property impresses with its spectacular location with a breathtaking panoramic view, a lot of history and a modern twist.
The "Freyschlössl" looks back on a long history: parts of the property were built in the 12th century, the former defense tower dates back to the 14th century. It owes its name to the Salzburg merchant Carl von Frey, who purchased the tower in 1862 and had it renovated in the style of a knight's castle – with building material quarried from the neighboring rock. In 2010-2012, the historic structure was completely renovated and extended with a modern annex and glass dome roof. Today, the unique ensemble shines on a site area of around 13,456 m² and consists of various structures: cube, tower, half-timbered building and west wing. In the spacious park there is also the historical "Tyrnitz" and an outbuilding.
Glass elevator and terraces
A central hall on the first floor of the main building connects the individual components, and all floors are conveniently accessible via a glass elevator. In addition, the listed Schlössl has terraces in all directions and several viewing balconies.
On a total living area of 876 m² there are 12 rooms (incl. a historic tower room) and numerous historic elements such as an old drawbridge, which have been restored with great sensitivity and meticulousness. All this in one of the best locations in the festival city, on Salzburg's Mönchsberg, and with a spectacular 360-degree panoramic view of Hohensalzburg Fortress, Salzburg's old town and the surrounding mountains.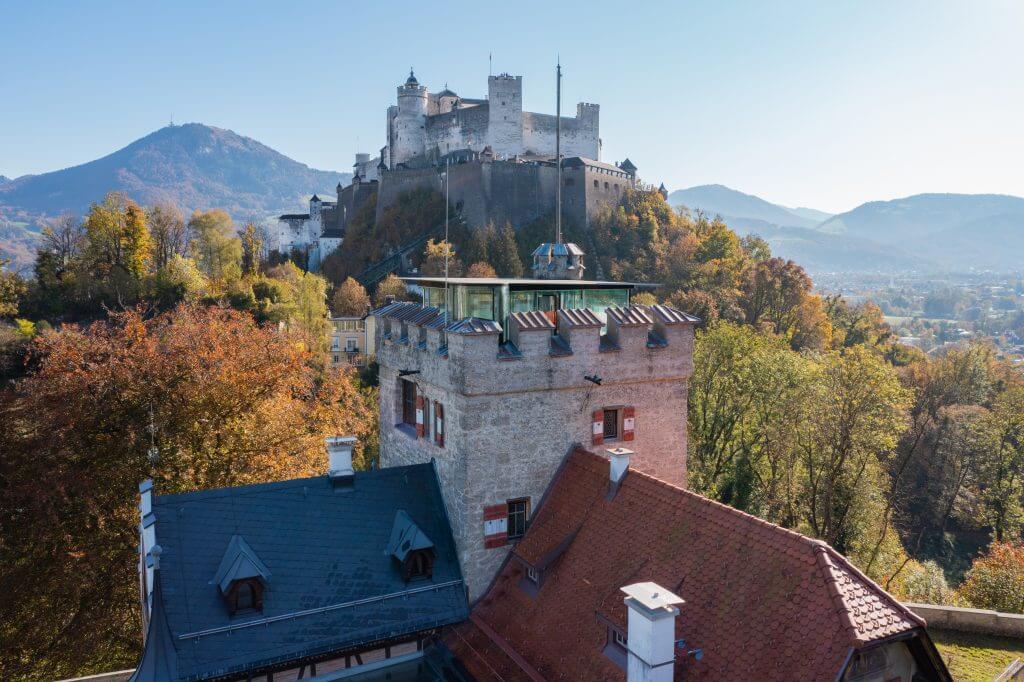 Here is the link to the property: https://premiumliving.findmyhome.at/lp/index.php?immoid=433
---
Landlust: Luxury real estate in the countryside
Urban: Luxury properties Vienna Urban
Villa location: Luxury properties Villa location
For ski fans: Luxurious living for ski fans
On the waterfront: luxurious living on the waterfront
Hotel service: Luxurious living with hotel service
Exquisite view: Luxurious living with an exquisite view
For golf fans: Luxurious living for golf fans
Classic elegance: Luxurious living in classic elegance