Vacuum Cleaner Premium Check, Part 1
Everyone has one, but everyone hides it – yet the vacuum cleaner is one of the most important appliances in our household and in recent years sometimes quite pretty to look at.
But since pretty alone isn't enough, we set out to find premium appliances that also match our premium living properties.
Our requirement profile when researching for the perfect vacuum cleaner was a single-family home on multiple levels, with four people (2 adults, 2 children) and pets. We also wanted to know how the devices performed on different floors (e.g. parquet, stone, tiles, carpet) – both indoors and outdoors.
It was also important for us to test products from the D-A-CH region and put them through their paces. In other words, in terms of energy efficiency, versatility and size.
Powerful cleaners
We quickly noticed that – despite its exponentially increasing popularity – the robot vacuum quickly stops at our profiling, both in terms of battery power (at 200 m2 plus) and the harshness of the desired suction and mopping performance.
In contrast, two devices convinced us that we would like to introduce to you in more detail – we will start with the Vivenso Touch, and you can read all about the VK7 cordless vacuum cleaner from Kobold in this blog in September.
Vivenso Touch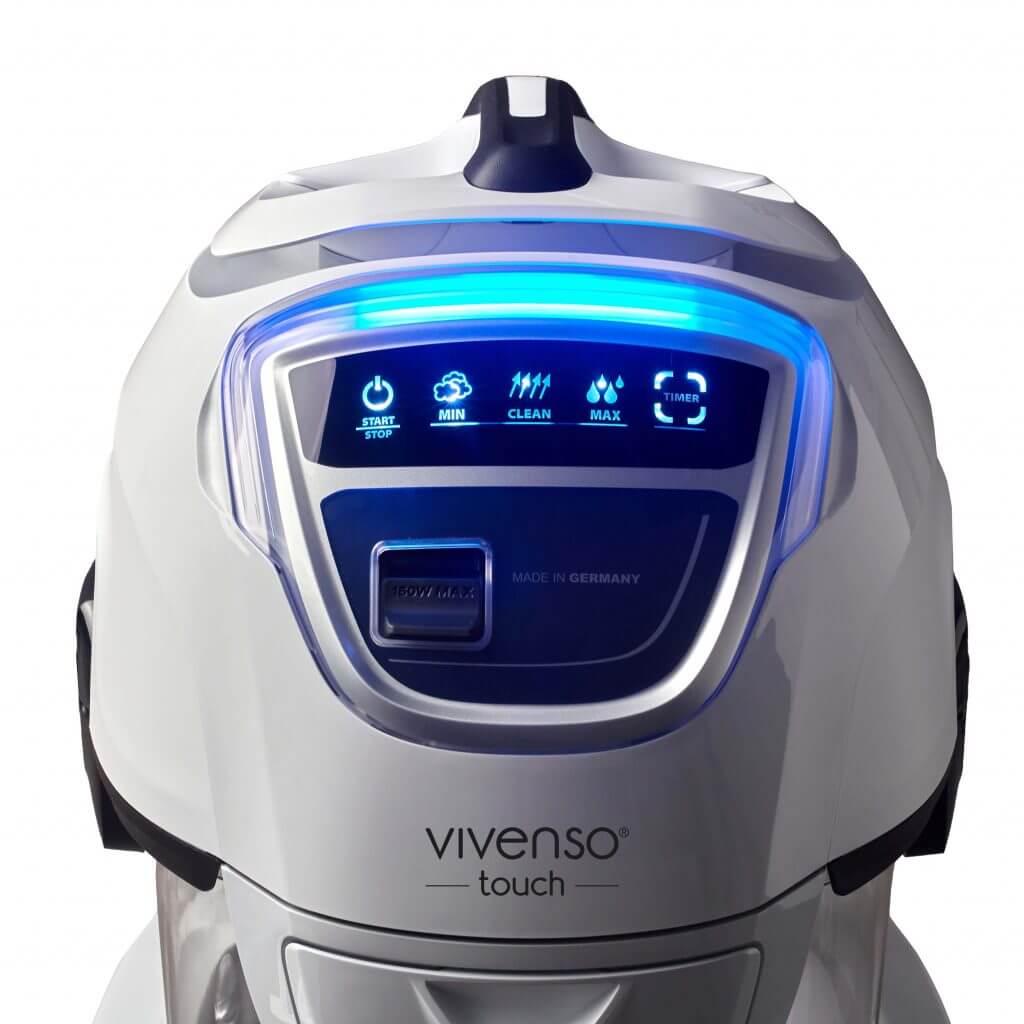 All info at: https://pro-aqua.com/
Already at the first start-up, you notice that the Vivenso Touch runs at 30,000 rpm. has real power, but – as promised – is extremely quiet at the same time. The dirt sucked up by this device is not bundled in a filter bag, bag or dust container, but in a water tank.
This meticulously binds the dust particles, the outgoing air is like after a rain shower – the vacuumed materials feel noticeably clean and fresh.
During the suction process, the air in the room is also simultaneously washed for a better indoor climate.
Very clever of the manufacturers is the upselling of the fragrance oils, of which you drip a few drops into the water tank before vacuuming and which subconsciously emphasize the feeling of cleanliness through a kind of aromatherapy.
The versatile range of use thanks to smart accessories is impressive! All types of floors such as parquet, carpets, various textiles such as pillows and mattresses, windows and even the car can be cleaned easily and time-efficiently.
The Vivenso Touch in an everyday test
The accessories were also largely designed with sustainability in mind by using natural hair brushes & natural fiber cloths.
Keyword sustainability: Here we want to mention the energy efficiency with 650 watts, the maximum water consumption of 3 liters during the suction process and the unnecessary purchase of bag or filter as an additional plus.
The tank is easy to clean after vacuuming and the Vivenso is always neatly stowed away.
The use of the device with touch display and accessories is self-explanatory and really perfectly solved. If you want to find a fly in the ointment despite everything, there could still be some optimization in terms of weight, but the Vivenso is really premium-worthy in all respects and absolutely recommendable for premium properties.
---
3% DISCOUNT ON YOUR ORDER WITH THE EXCLUSIVE COUPON CODE:
" V168845 "
(Insert in the shopping cart under "Coupon code" – the deduction is immediately automatic).
All product and price information can be found in the online store at: https://pro-aqua.com/
---
AFFILIATE NOTICE
The above links are so-called affiliate links. If you purchase through this link, we will receive a commission through the online store listed. There are no additional costs or disadvantages for you.
Landlust: Luxury real estate in the countryside
Urban: Luxury properties Vienna Urban
Villa location: Luxury properties Villa location
For ski fans: Luxurious living for ski fans
On the waterfront: luxurious living on the waterfront
Hotel service: Luxurious living with hotel service
Exquisite view: Luxurious living with an exquisite view
For golf fans: Luxurious living for golf fans
Classic elegance: Luxurious living in classic elegance