What actually is the "Viennese network"?
Under the name "Viennese wickerwork", a special type of wickerwork conquered furniture construction – and is still a trend today.
From Vienna, the coffee house chair No. 14 by Thonet appeared in the 19th century began its triumphal march around the world. The "Viennese weave" is closely connected with it in the truest sense – namely, it formed the seat of the classic at that time, and continues to do so today. Thonet was not the first to take advantage of the lightness and stability of rattan weave: the material and the art of weaving came to Europe from the colonies in the course of the 18th century, for example from India and Indonesia. Already at the end of this century braids were also found on chairs in Vienna.
Six steps
Viennese braiding is a special type of braiding art: it is created in six steps, during which each thread is pulled individually. In the first step this is the case lengthwise from one side of the frame to the other and back again, in the second the thread is pulled horizontally. At step number three, again lengthwise, at number four, the string is pulled through the holes created. In the last two steps, the threads are braided diagonally in both directions. These steps are what give the Vienna mesh its stability and durability. The tighter weave – it depends on the holes in the chair frame – the higher the quality and durability.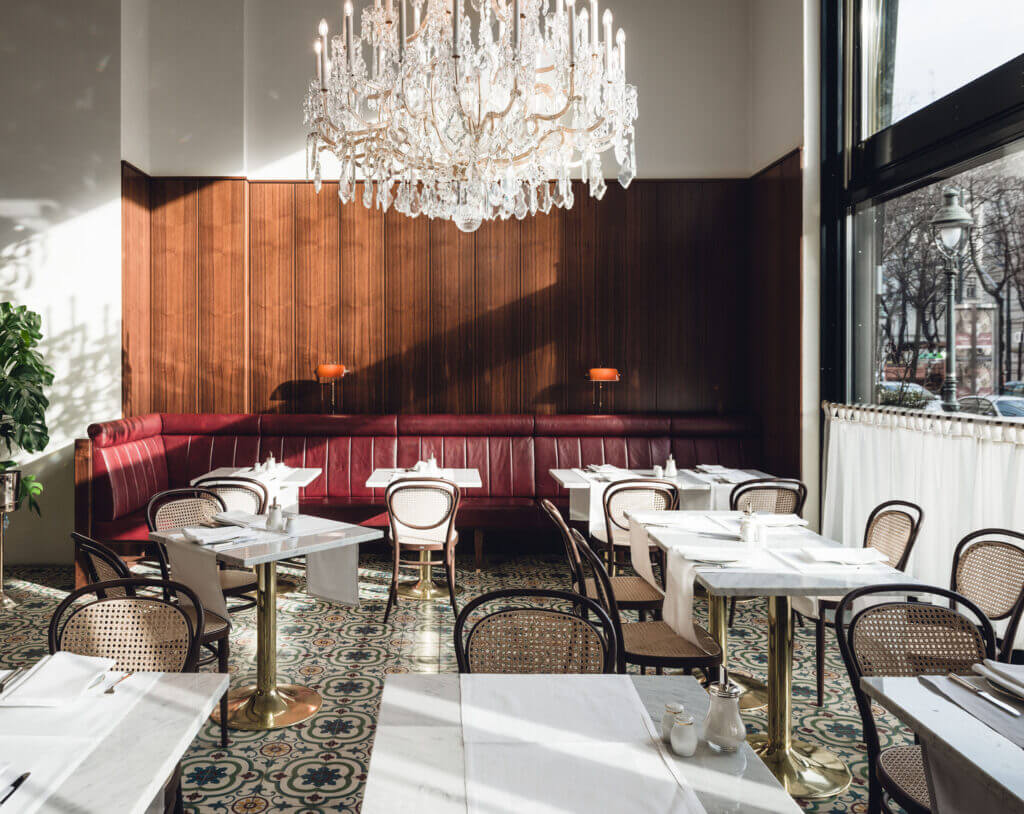 More than seat cover
However, the Viennese wickerwork, which is now also produced industrially, is not only used as a seat covering. It can also be found as an insert in cabinets, chests of drawers or screens, as bedheads and footboards, on coffee tables and much more. Much to the delight of interior designers, who have been helping the honeycomb pattern make a comeback for the past two or three years. But fashion designers also love the pattern: Stella McCartney, for example, even used it for one of her bag models, the Falabella Box, in 2020.
Sustainable material
The fact that rattan enjoyed and still enjoys great popularity, has several reasons: The material is lightweight, strong and durable. Last but not least, it scores with sustainability: because the rattan palm, also known as the rotang palm, grows back quickly.
Photos: Grand Ferdinand (Florian Weitzer Hotels & Restaurants), KARE Austria
---
Landlust: Luxury real estate in the countryside
Urban: Luxury properties Vienna Urban
Villa location: Luxury properties Villa location
For ski fans: Luxurious living for ski fans
On the waterfront: luxurious living on the waterfront
Hotel service: Luxurious living with hotel service
Exquisite view: Luxurious living with an exquisite view
For golf fans: Luxurious living for golf fans
Classic elegance: Luxurious living in classic elegance