Villa Bunzl shines in new splendor
This jewel of Viennese Modernism in Chimanistraße in Vienna's 19th district has been extensively restored and extended.
The listed Villa Bunzl in Vienna-Döbling shows how well the Viennese modernism of the 1930s harmonizes with contemporary architecture. The Bauhaus-style villa, built in 1935 according to plans by architect Josef Frank (1885-1967), incidentally his last planned building in Vienna, has been faithfully restored in recent months by "amb Development" in coordination with the Federal Monuments Office and extended by a large glazed cube. The jewel of Viennese modernism now not only shines in new splendor, but also presents itself as a unique property with a wide range of possible uses. "Whether as a residential building with adjoining office or gallery space, as an exclusive showroom or as a prestigious annex – here you have the opportunity to experience the spirit of a legendary architect and designer on a daily basis," says Paul Öllinger, Managing Director of amb Development.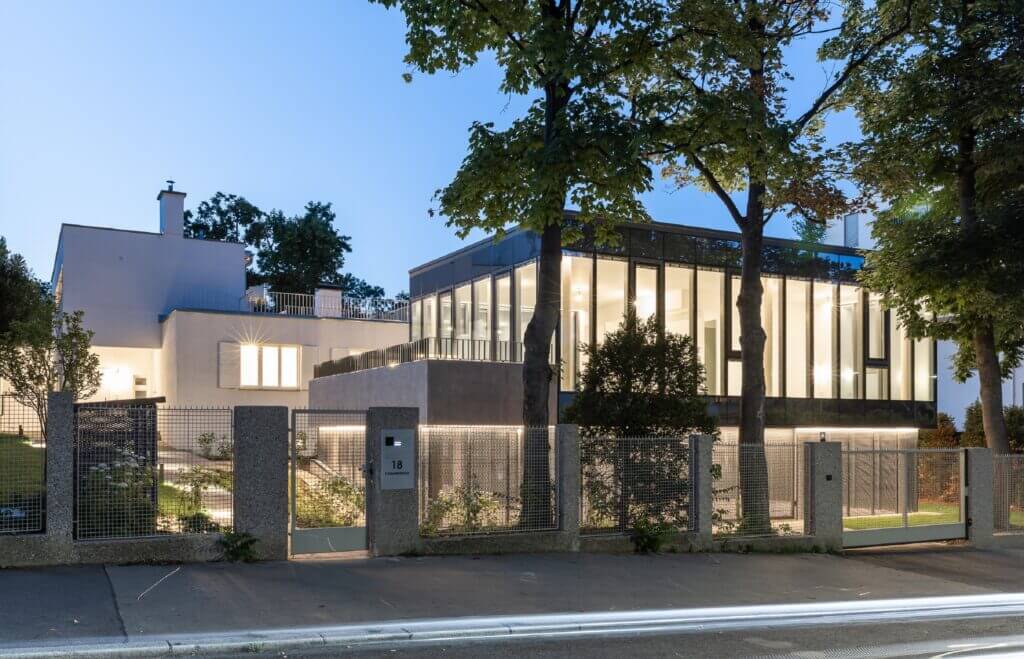 Viennese modernism of the 1930s meets contemporary architecture
The future owners will find plenty of space on the approximately 1,270 square meter plot, the 300 square meters in the old building and the 90 square meter glass solitaire. In a patio on the ground floor, in the lounge with an open fireplace in the living room or on the terrace with pool and modern home technology, a first-class ambience that is unparalleled in this combination. A particular historical highlight is the open staircase, which has been preserved in its original state and whose vertical balusters connect the two floors with ease. High rooms, striking exposed concrete walls and seamlessly merging glass surfaces create a feeling of boundlessness in the new building on the street side. State-of-the-art shading and cooling technology ensures a pleasant climate even in summer temperatures. The spacious south-west-facing terrace offers creative minds additional scope for design. And the discreet perforated metal façade on the first floor conceals a spacious carport, which can be reached from both units in just a few steps.
On the trail of modernity
"When you enter the listed city villa, you walk in the footsteps of Viennese Modernism: open spaces with charming niches, clearly laid out rooms on various intermediate levels and elegant areas that invite you to take a stroll," explains architect Gina Ossoinig. Öllinger adds: "The value of a property is usually measured by its location, planning sophistication and level of furnishings. But some properties gain value simply by existing, especially among connoisseurs and enthusiasts."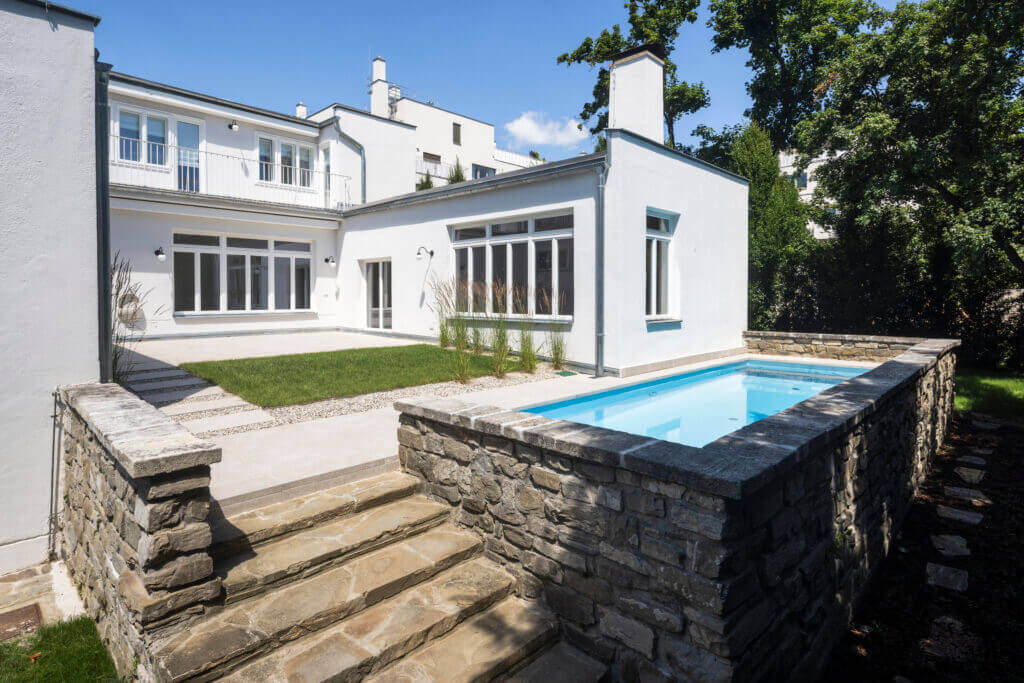 Initiator of the Werkbund Estate
Josef Frank is one of the most important protagonists of the "Second Viennese Modernism". The co-founder of the Austrian Werkbund and later initiator and artistic director of the Werkbund Estate in Vienna-Hietzing was also a co-founder of the International Congresses of Modern Architecture (CIAM). Frank emigrated to Sweden in 1934.
All photos: Daniel Hawelka
---
Landlust: Luxury real estate in the countryside
Urban: Luxury properties Vienna Urban
Villa location: Luxury properties Villa location
For ski fans: Luxurious living for ski fans
On the waterfront: luxurious living on the waterfront
Hotel service: Luxurious living with hotel service
Exquisite view: Luxurious living with an exquisite view
For golf fans: Luxurious living for golf fans
Classic elegance: Luxurious living in classic elegance