Light architecture – planning and implementation
Whether you have a small home or a large one, lighting is one of the most important factors in making your home feel comfortable. Efficient lighting design can not only save energy, but also make a room appear larger. Especially in the cold season, when it gets dark earlier outside, good lighting in the house is particularly important. So that you do not grope in the dark, you should therefore illuminate your rooms ideally. We give you tips for the perfect planning and implementation of your lighting concept:
The general rule of thumb
Light controls our mood, performance and hormone balance and thus has a significant influence on our health. That is why it is important to use the right lighting. Basically, depending on the purpose of a room, the light should be adjusted. Bright rooms are best for work and concentration, while warm lights invite you to rest.
First steps to the right lighting
The first step in planning your light sources is deciding which rooms you want to light. This depends entirely on your personal preferences. Do you want to make your living room extra bright? Or are you looking for atmospheric lighting for your bedroom?
Each room has its own requirements. In the kitchen, you need to have a good view of the countertop to cook smoothly. In the living room it requires cozy lighting, and in the bedroom it should be soothing.
Planning of the lighting concept
Think about what purpose the lighting will serve. Should it be purely functional or decorative? Functional lighting is usually clear and direct, while decorative lighting is more mood-oriented.
Functional room lighting
In most homes, there are some rooms where lighting should be well thought out. This includes the kitchen, where people gather with family or friends and which is usually the center of the house. Here we recommend a mixture of direct and indirect light, so that you can both work well and have the option to turn down the atmosphere with dimmable light.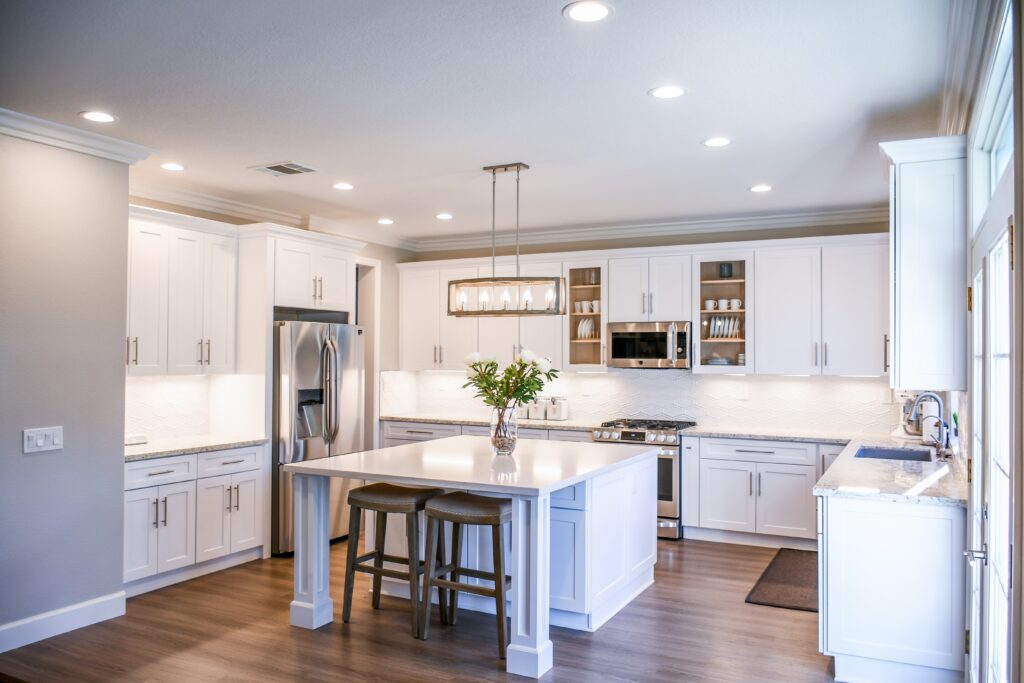 The bathroom should also be well illuminated – after all, you want to get ready for the day here. A mixture of direct and indirect light is also recommended here.
Not to forget about the hallway. Here, the light should be bright and sufficient to get home safely in the dark.
The terrace or balcony are other places where you should consider the lighting. Practical and sufficient light is recommended here so that you can still walk around safely at night.
Decorative room lighting
Not only functional rooms should be well lit – cozy rooms such as the living room or bedroom also invite you to relax with efficient lighting. Here, you should focus primarily on cozy ambient light.
Choice of illuminants
Once you have decided on the type of room lighting, you can choose the bulbs. Incandescent lamps are still widely used, but they are no longer the only option. LEDs now offer some advantages over incandescent lamps, for example, a longer service life and lower energy consumption – so you can save additional electricity. Halogen lamps are another alternative and provide a bright, clear light.
What you should pay special attention to
Very important is the position of the illuminants. Consider that the light comes from above, e.g. from the ceiling floodlight, or from below, e.g. from the recessed floor chandelier. The position affects the brightness and mood in the room. Skillful lighting can also make a room look bigger or set accents.
Lastly, make sure you can dim the light. This is especially important for the living room or bedroom, where you may want to create different lighting moods. Dimmable LEDs offer the best flexibility here.
Landlust: Luxury real estate in the countryside
Urban: Luxury properties Vienna Urban
Villa location: Luxury properties Villa location
For ski fans: Luxurious living for ski fans
On the waterfront: luxurious living on the waterfront
Hotel service: Luxurious living with hotel service
Exquisite view: Luxurious living with an exquisite view
For golf fans: Luxurious living for golf fans
Classic elegance: Luxurious living in classic elegance