Exclusive vehicle care and equipment
In the world of high-class cars and their surroundings, there is a constant evolution that is constantly redefining the luxury experience on four wheels. Luxury cars are no longer just a means of transportation, but a mobile oasis of comfort, elegance and innovation. But how have trends in vehicle equipment developed in recent years and what can we expect in the future? To answer these questions, we interviewed Lukas Hinterberger from "Wagenwerk", an expert in this field. His insights reinforce the fact that luxury in the automotive sector is constantly being reshaped – from personalized leather interiors to high-end technologies.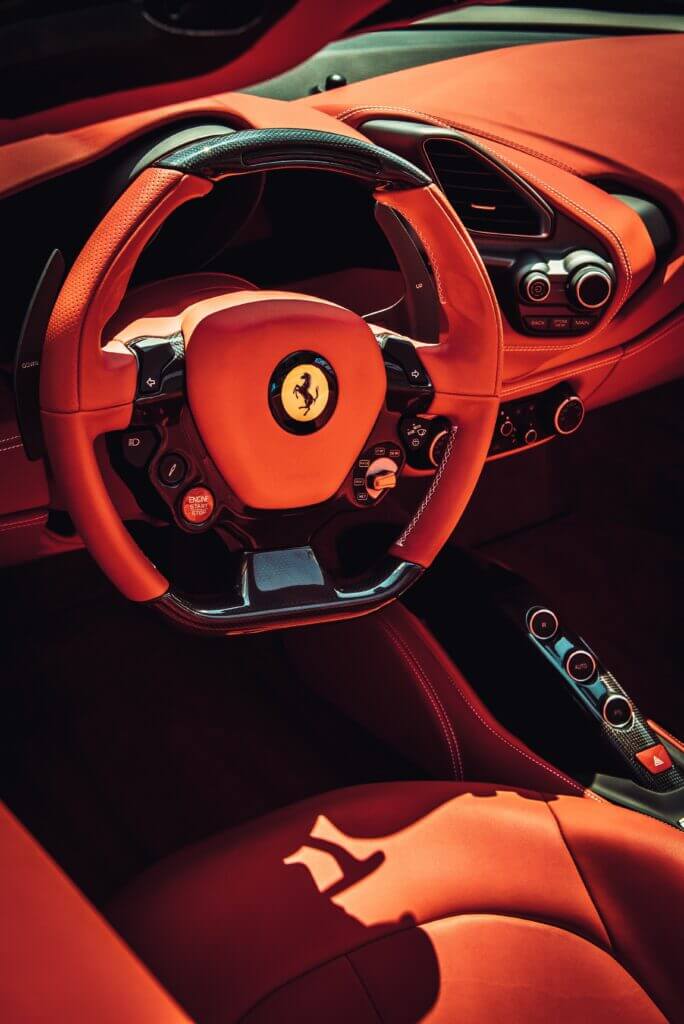 Current trends in exclusive vehicle equipment: individuality & innovation
The exclusive furnishings have undergone a remarkable transformation in recent years. Vehicle owners are increasingly demanding individual solutions to make their luxury car even more unique. Examples such as individual leather fittings, high-quality music systems and large alloy wheels (currently up to 24 inches) illustrate this trend.
But it's not just about individuality. Innovative luxury vehicle equipment such as lift systems for raising the front axle, distance control systems and safety-related systems such as blind spot and lane departure warning systems have entered the scene in recent years. Luxury no longer just means comfort, but also advanced technology.
The evolution of the definition of luxury: personalization & sustainability
An expensive car used to be considered a luxury. Nowadays, however, the topic is being defined more and more individually. Manufacturers are placing greater emphasis on sustainability, but for most customers in the luxury segment, this criterion only plays a subordinate role. Today, luxury means owning a vehicle that is tailored to your own wishes and needs – the more individual and personalized, the more exclusive and expensive.
The role of technology in the luxury segment: connectivity and autonomous driving
The definition of luxury is also significantly influenced by technological developments. Connectivity and autonomous driving are becoming ever more extensive and sophisticated. The way in which cars interact with their drivers and the world has changed dramatically.
Valuable tips for vehicle care and value retention
To ensure that a luxury car retains its value, regular care and maintenance in authorized workshops is crucial. Experts advise regular professional car valeting and recommend sprucing up the car at least once a year.
Unusual luxury features: A look at what you may not yet know
Drinks trays with heating and cooling functions are unusual luxury details that add another dimension of comfort and prestige to the car.
Everyday use: How luxury car owners overcome challenges
The day-to-day care of a luxury car can be demanding. In addition to regular maintenance and vehicle preparation, the expert recommends a ceramic sealant that protects against stone chips using a transparent protective film.
Future trends and developments: A look into the crystal ball
The outlook for the future reveals possible trends that could boost the world of exclusive vehicle care and equipment in the coming years – for example, a "self-healing" stone chip protection film and harder and dirt-repellent paint surfaces are high on the list.
---
Landlust: Luxury real estate in the countryside
Urban: Luxury properties Vienna Urban
Villa location: Luxury properties Villa location
For ski fans: Luxurious living for ski fans
On the waterfront: luxurious living on the waterfront
Hotel service: Luxurious living with hotel service
Exquisite view: Luxurious living with an exquisite view
For golf fans: Luxurious living for golf fans
Classic elegance: Luxurious living in classic elegance