Best of Whisky
Whisky is one of the most popular alcoholic beverages in the world and has a long history, which is celebrated every year on "Whisky Day", March 27. For all those who are interested in high-proof spirits and would like to learn more about the special elixir, we have conducted an interview with whisky connoisseur Jasmin Haider (Waldviertler Whisky). A conversation about the origin of whiskey, who drinks it and how to enjoy it. At the end of the article you will find another great recipe for a whiskey cocktail!
Right at the beginning – how do you spell it correctly: whisky or whiskey?
The Scottish spelling, i.e. whisky, is also used in Austria, among other countries, while the Irish spelling – whiskey – is used in the USA.
And who invented it?
Whiskey was probably first distilled by Irish monks. But
it was the Scotsman Brother John Cor who secured the first written record of this. And that is with the purchase of barley malt to produce aqua vitae or uisge beatha. The latter is a Gaelic term meaning water of life – and from this the word whisky eventually derived, as the English could not pronounce it correctly. Uisge became whiskey.
Where does it come from?
Whisky is a spirit with an international character and is now produced all over the globe. Roughly, six major whisky nations can be named, the most original being Scotland and Ireland. Followed by the U.S., where priority is given to bourbon whiskey, made from corn and aged in the U.S., and rye whiskey. Also Canada, Japan and India. In addition, there are also distilleries in many other countries whose importance is increasing more and more – such as Sweden, Taiwan or Austria.
What is whisky made from?
Whisky is a grain spirit with malt content, at least 40% vol. Alcohol and aged for at least three years in wooden barrels. Scots and Irish use primarily barley and barley malt. Bourbon, which must always come from the USA to bear this designation, consists of at least 51% corn. The basic ingredients for the production of whiskey are grain or malt, water and yeast. At our distillery, the malted grain is crushed, mashed and distilled. Then it goes into oak barrels and matures between three and 15 years. In Scotland or Ireland, the milled malt is lautered before yeast is added – similar to beer production.
What largely determines the taste of whiskey?
Whisky gets its flavors from the base product (which grain is used; rye has different flavors than barley, for example), the production process (important is whether or not the grain is purified before distillation; or what type of still is used), and the bulk (about 80%) from aging in wooden barrels. The alcohol leaches tannins and tannins from the wood.
What creates the different flavors in whiskey?
The basic product, production and storage are responsible for the flavors. In our DARK RYE MALT J.H., for example, the nougat chocolate notes come from the dark roast level of the malt. Vanilla notes – a very classic whiskey aroma – always come from the oak.
How to store it properly?
At least three years in wooden barrels. Scotland even defines that it must be oak barrels. According to the EU regulation, only wooden barrel is defined.
Do you drink whisky neat or on the rocks?
Malt whisky is best enjoyed at room temperature, without ice. This is the best way to develop the flavors and complexity. The colder it is, the less you can guess its depth. Because the ice dilutes the complex flavors and can not develop optimally. The perfect drinking temperature is between 18 and 22 degrees Celsius. If you don't want to do without ice, add only one or two ice cubes. But you should be aware that you not only lower the temperature, but also decimate the flavors. Rye whiskey or bourbon handle the cold addition best.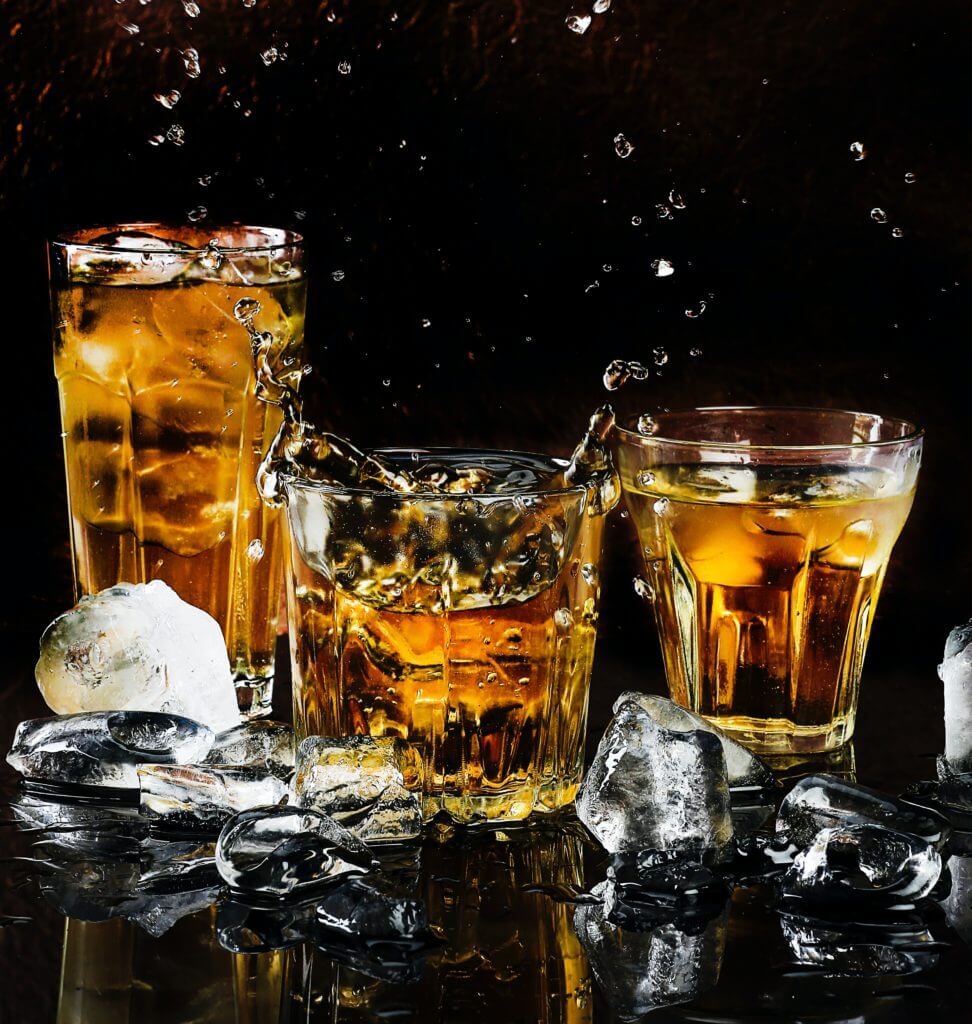 Where does the whiskey get its golden yellow color?
Due to the storage in wooden barrels.
What does the typical consumer look like? Do women like to drink it?
The cliché of an older gentleman sitting in the library drinking a glass of whiskey is long outdated. Consumers are getting younger and, above all, much more open-minded. In the last 27 years, we have made the experience in our whisky distillery with connected world of experience that the public is more willing to experiment. They want to try new things. Whisky is a drink that offers an enormous range, and consumers know it. Scotch or Irish whiskey is no longer the measure of all things.
Do beginners drink different whisky than connoisseurs?
As said, whiskey has an enormous range and variety. There are sweeter bottlings from, for example, rye malt or even bourbon and quite strong whiskies. You're not likely to get on board with the latter. This is the kind of whiskey you feel your way to. Light bottlings are more entry-level whiskies. But of course, tastes are different. It is difficult to make a general statement like that.
What can you mix whiskey with without embarrassing yourself? What are the hottest whiskey cocktails?
Basically, I am of the opinion that what tastes good is allowed. However, one should differentiate somewhat. If you want to mix your whiskey with cola, for example, you should not use a complex malt whiskey, but a bourbon, which is by far not as complex. Cocktail recipes are many excellent with whiskey. My personal favorite recipe is a Sazerac.
And here is the recipe for it – the Sazerac:
An all-time classic – perhaps even the original cocktail.
60ml Original Rye Whisky J.H.
5ml lavender syrup
2 Dashes Peychaud's Bitters
1 Dash Angostura Bitters
Stir cold with ice cubes, line small tumbler glass with absinthe, strain drink into glass and enjoy straight-up.
---
Landlust: Luxury real estate in the countryside
Urban: Luxury properties Vienna Urban
Villa location: Luxury properties Villa location
For ski fans: Luxurious living for ski fans
On the waterfront: luxurious living on the waterfront
Hotel service: Luxurious living with hotel service
Exquisite view: Luxurious living with an exquisite view
For golf fans: Luxurious living for golf fans
Classic elegance: Luxurious living in classic elegance